'Bargain' is feeling the pressure after becoming first Korean drama invited to Canneseries
From left, actors Jin Seon-kyu, Jeon Jong-seo, Chang Ryul and director Lee Chung-hyun pose for a photo in Cannes, France on Sunday. [TVING]

Being the first ever Korean drama series with to be invited to the Cannes International Series Festival (Canneseries) is a once-in-a-lifetime experience for the main cast of the Tving and Paramount+ original "Bargain."

"Bargain," about a human organ trafficking ring and its targets who have to escape a sudden earthquake, is also the only Korean title to be invited to Canneseries this year.

It is also the first original series made from a domestic streaming service to have been earning prestigious recognition, shedding a ray of hope to local over-the-top (OTT) services struggling to compete with the streaming behemoth Netflix.


Tving original series "Bargain" is a dystopian tale revolving around a man, portrayed by Jin Seon-kyu, who is tricked into a human trafficking organization and is about to have his body parts auctioned off - when a sudden earthquake saves his life. [

Canneseries is a festival held in Cannes, France every April before the Cannes International Film Festival in May. Cannes is one of the three most prestigious international film festivals along with the Berlinale and the Venice Film Festival, and the Canneseries was established in 2018 to celebrate series along with films.

"It is very unreal being here in Cannes with our drama 'Bargain,'" said Jin Seon-kyu, who plays one of the main characters in the series, during an online group interview with Korean press Sunday. The cast and director of "Bargain" are currently in France for the festival events.


Actor Jin Seon-kyu [TVING]

"I think that it is very meaningful that we have been invited here as part of the first Korean drama series invited to Canneseries. We are nominated in five categories right now, and I hope we do end up winning something to be able to celebrate this feat."

"Bargain" is up for awards in the Best Series, Best Music, Best Screenplay, Best Performance and Special Interpretation Award categories and will be competing against 10 other series.


Actor Chang Ryul [TVING]

"Foreign fans were coming up to us and asking for autographs here at Cannes when we got to the airport," said Chang Ryul, who stars along with Jin and Jeon Jong-seo as the main characters. "I think we felt the power of Korean content and how far along we have come in moments like that."

Originally a 14-minute short film by director Lee Chung-hyun made back in 2015, "Bargain" was picked up by local production studio Yong Film and expanded into a full-length drama series after the 2015 short film received critical acclaim domestically. Lee also directed the series.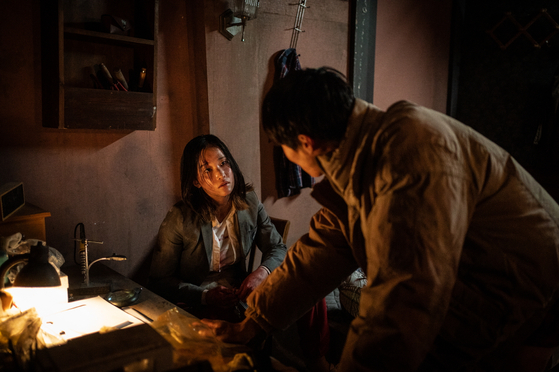 Actors Jeon Jong-seo and Jin Seon-kyu in "Bargain." [TVING]

The series grabbed the Canneseries invitation through employing a highly risky and experimental way of filming, according to Jin, Jeon and Chang. The series adopted a one-take method, where there are almost no divisions or cuts between shots and the camera continuously follows the actors through various backgrounds and sequences, which leaves almost no room for mistakes.

"This experimental way that we shot our series is one of the main reasons why 'Bargain' received recognition from Cannes, in my opinion," said Chang. "Carrying out a three-and-a-half-hour story with this method is very unusual and challenging. Not only us actors but the entire crew and staff worked tirelessly for this project, and this was acknowledged through this Canneseries invitation."

Although "Bargain" itself deserved the invitation and critical acclaim, it was the countless Korean films and dramas that came before the series that made it possible for "Bargain" to garner so much attention from global fans, according to Jeon.


Actor Jeon Jong-seo [TVING]

"I think global audiences were always interested in Korean content and masterful works before us have paved the road for recent films and series to be recognized," said Jeon. "But with the onset of streaming services and foreign content becoming more accessible, a whole new wave of interest in Korean content has come before us. I feel grateful to be at the center of that wave of interest with 'Bargain.'"

With the invitation and nominations, the main cast feels a sense of responsibility, said Chang.


Characters in Tving's "Bargain" get into a confrontation. [TVING]

"It would be great if we could win awards, but what is more important is being able to deliver to and reach audiences," said Chang. "I hope 'Bargain' succeeds in doing so and that viewers can be entertained through our series."

The awards for Canneseries will be announced on April 19.

"Bargain" can be streamed on domestic streaming service Tving and on Paramount+ internationally.

Tving reported that the series brought an influx of paid users to the local streaming service after its release and increased the number of visits from existing users for two consecutive weeks.


BY LIM JEONG-WON [lim.jeongwon@joongang.co.kr]