'Script books' see major surge in sales with popularity of K-dramas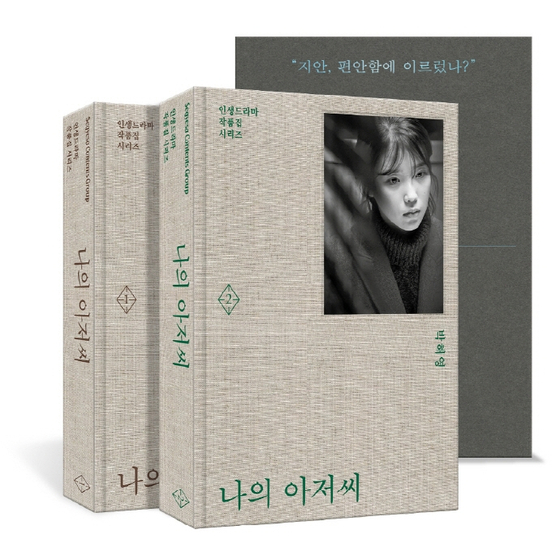 Script books for "My Mister" (2018) [SEGYESA]

Korean bookstores have a new section to add to their aisles — K-drama scripts.

"Script books" of Korean TV series and films are seeing a surge in sales. According to online book retailer Yes24, 58 K-drama scripts have been published as books between January and July this year; a noticeable increase from 14 during the same period in 2020 and 48 in 2021. Sales are also on the rise, seeing a 93.2 percent growth in 2020, 54.5 percent in 2021 and 121 percent in 2022 compared to the previous years.


Currently, the best-sellers are parts 1 and 2 of the SBS series "Our Beloved Summer," which ended in January. The scripts were published as books in February and have sold a combined total of more than 90,000 so far.


A scene from "Our Beloved Summer" (2021-22) [SBS]
Script books for "Our Beloved Summer" (2021-22) [GIMMYOUNG]

"I wanted to know what [lead actors] Choi Woo-shik and Kim Da-mi read on the script to make the expression they did on screen" and "I bought this to keep my favorite show in my memory," read reviews on a bookstore website by customers who purchased the script books of "Our Beloved Summer."

Script books sell for around 20,000 won ($15) per copy, and one show is often broken down into two or more parts.

The script for director Park Chan-wook's "Decision to Leave," which hit theaters in late June, is also seeing popularity. Its script book received over 6,000 pre-orders in a day and became Kyobo Bookstore's overall No. 1 best-seller in the first week of August. Script books for Park's previous films such as "Thirst" (2009) and "The Handmaiden" (2016) also saw their sales skyrocket four times last week compared to the previous week.


A scene from "Decision to Leave" (2022), starring Park Hae-il and Tang Wei. [CJ ENM]
Script book for "Decision to Leave" (2022) [EULYOO PUBLISHING CO.]

"One reason could be that more people are dreaming of becoming K-drama writers," said Kim Min-kyung, senior editor of publishing company Gimmyoung, who planned and edited the script book for "Our Beloved Summer."

"But most of all, the driving force behind the popularity of script books is fandom culture," she continued. "Viewers in their teens and 20s love to support and invest in shows that feature their favorite actors or genre, regardless of how successful the series was in terms of ratings. They are willing to splurge. Streaming platform Watcha's series 'Semantic Error' [2022] is a great example [of fandom support.] Fans of a certain actor also tend to think of the script book as part of the star's merchandise."

Following this trend, many script books of K-dramas and films from years ago were published this year, and are ranking high on the list of best-sellers. Screenwriter Park Hae-young of JTBC's hit series "My Liberation Notes" (2022) had her previous work "My Mister," which aired on tvN in 2018, published as a script book in March. Although it has been four years since the series ended, it is currently the fourth best-selling script book on Yes24.



A scene from "My Mister" (2018) starring Lee Sun-kyun and Lee Ji-eun (also known as IU). [TVN]

"It's been quite sometime after the show, but many people remember 'My Mister' as the best K-drama of their lives and say it holds a lot of meaning," said editor Kang Hyun-ji of Segyesa, which published the series' script books. "We thought a story this good will be read by many, no matter how much time has passed."


Other "old but gold" examples on Yes24's best-seller list are the 2001 film "Take Care of My Cat" and the JTBC series "Be Melodramatic' (2019).

Publishers say they consider factors like the show's quality, message and entertainment value when deciding which K-drama scripts to turn into books. For instance, SBS's "Hot Stove League" (2019-20) was selected because it saw high ratings and also contained heartwarming messages for the younger generation. Meanwhile, KBS's "Youth of May" (2021) did not have a large viewership, but was selected since it was deemed meaningful for dealing with the May 18 Gwangju Democratization of 1980, which saw many casualties and deaths in a fight for democracy against Korea's military dictatorship at the time.


Script books for "The Red Sleeve" (2021-22) are currently the sixth best-selling in the category. [CHEONGEORAM]
A scene from "The Red Sleeve" (2021-22) [MBC]

Booklog Company's CEO Kim Jung-min, who has been consistently publishing works by renowned screenwriter Noh Hee-kyung since 2009, received a commendation from the Minister of Culture, Sports and Tourism last year. She was recognized for pioneering a new field for the publishing industry with K-drama script books, as well as foreign markets by selling publication rights overseas.

CEO Kim was behind the 2009 script book for KBS's "Worlds Within," which starred Hyun Bin and Song Hye-kyo. It was the first K-drama script book to be published.

"Before starting a publishing company, I was a K-drama screenwriter hopeful myself," she said. "I loved Noh's works and would find her scripts online, then print out each page one by one to read."


However, even she did not expect script books to establish themselves as a popular genre like it has today.


"When I first said I wanted to publish the 'Worlds Within' script as a book, everyone tried to talk me out of it," she laughed. "They said, 'Who would pay to read the script of a series that has already ended?'"

But to this day, the "Worlds Within" script book remains a steady seller, 13 years after the series aired its final episode. Afterward, Kim published script books like tvN's "Stranger" (2017) and "Hometown Cha-Cha-Cha" (2021) and sold the publication rights to Indonesia, Taiwan, the Philippines and China.

"Korea is the only country where scripts for television series are published as books," Kim added. "They're leading the growth of Korean book sales in Japan, Southeast Asia and Russia."


Script books for "Our Blues" (2022) [BOOKLOG COMPANY]
Poster for "Our Blues" (2022) [TVN]

On top of the script itself, script books include more features for collectible value, like an interview with writer Noh in the script book for tvN's "Our Blues" (2022) — a great way for the show's fans to get a deeper look into what the writer intended for each character and scene.

Booklong Company has been translating K-drama script books and publishing them in foreign countries for the past decade. However, that doesn't stop the popularity of the original Korean versions. The original script books are available for sale via online retailers outside of Korea, including Japan and many English-speaking countries.

It may be the case that those foreign purchasers can read Korean, but according Jeanie Yu-Gin Chang, a Korean-American licensed therapist and influencer specializing in K-dramas, the language barrier does not mean much to loyal fans of the show.



K-drama script books available on Japanese online retailers, in their original Korean versions [SCREEN CAPTURE]

"It [language] doesn't matter because people will buy them as souvenirs," said Chang, who is better known as Noona's Noonchi and shares K-drama analysis with international viewers. "Like K-pop fans, loyal viewers are willing to buy anything related to K-dramas."


"Personally, I've seen people around the world ordering 'Hometown Cha-Cha-Cha' script books online after the show was a hit," she continued. "So fans around the world do know about and buy the script books, whether they're available in translated versions or not. In fact, the Korean version is probably most appreciated as a souvenir, since it's the original language."

BY SEO JEONG-MIN, HALEY YANG [yang.hyunjoo@joongang.co.kr]