[CELEB] WEi is back again, but this time served with a side of sexy
Boy band WEi [OUI ENTERTAINMENT]

WEi released its fifth EP "Love Pt.2 : Passion" on Wednesday at a showcase held at Roun Art Hall in Yangcheon District, western Seoul.

Recently back from its "First Love : WEi World Tour," the boy band of six — Jang Dae Hyeon, Kim Dong Han, Yoo Yong Ha, Kim Yo Han, Kang Seok Hwa and Kim Jun Seo (each stylized in all capital letters) — shared their excitement to be back in the K-pop scene seven months after their previous release.

"I don't think we've ever been this nervous since we debuted as WEi," said Yong Ha. "That's how hard we practiced."

"We are nervous, but it's a different type of nervous from when we debuted," Jun Seo said. "We want to show you only the best."


WEi poses during a showcase at Roun Art Hall in Yangcheon District, western Seoul, on Oct. 19 for its fifth EP "Love Pt.2: Passion." [OUI ENTERTAINMENT]

The band introduced its lead track "Spray," a dance number that likens love to drawing graffiti. Member Dae Hyeon participated in writing the rap lyrics.

While WEi's last lead track "Too Bad" was a bright and bubbly love song, "Spray" continues on the theme of love but this time takes on a darker, more intense tone. The previous EP "Love Pt. 1 : First Love" focused on the innocent feelings of budding love, but members say the new EP sings about the passionate, and sometimes even painful, feelings of love.

"Overall, I can say we became sexier," said Dong Han. "We worked hard in the gym to do that."

The EP, which is the second part of its "Love" series, also features romantic tracks "Moonlight," "Higher Ground," "Rose," "Special Holiday" and "Umbrella."

Members also shared more stories about their experience during the world tour.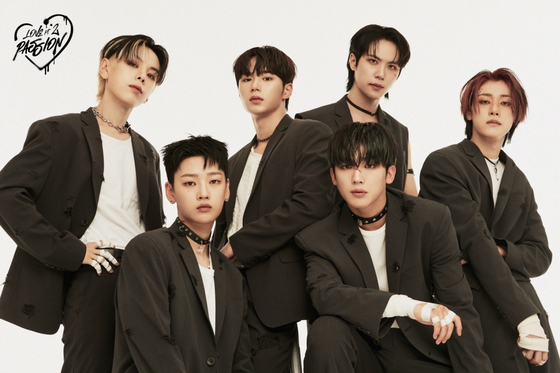 WEi [OUI ENTERTAINMENT]

"At first, I was a bit afraid," said Yo Han. "But as I met and communicated with fans, I gained confidence day by day. By the middle of the tour, I found myself fully enjoying it."

"During our concert in Mexico, the fans shouted 'I love you' in Korean to us," said Seok Hwa. "We got choked up."

"I worried if we could actually get this done," said Jun Seo. "But I ended up feeling so grateful to our fans and other members for believing in us and accompanying us on our journey. We made so many good memories."

Pronounced like the pronouns "we, I," the boy band debuted in October 2020 with its first EP "Identity : First Sight." All six members were known as contestants on idol audition shows: Dae Hyeon and Dong Ha on Season 2 of "Produce 101" (2017), Yo Han and Seok Hwa on Mnet's "Produce X 101" (2019) and Yong Ha and Jun Seo on MBC's "Under Nineteen" (2018-19).


Kim Yo Han on the final episode of "Produce X 101," on which he was announced as the winner. [OUI ENTERTAINMENT]

Yo Han already had a high profile as the winner of "Produce X 101." He and 10 other finalists of the show formed the short-lived project boy band X1, which was active from August 2019 to January 2020. X1's debut EP "Quantum Leap" sold over 524,000 copies, becoming the first K-pop album by a debuting artist to sell more than half a million copies. To this day, it holds the title of highest CD sales by a debuting K-pop act.


Boy band X1 in 2019, with Yo Han in the center [SWING ENTERTAINMENT]

After X1 disbanded, Yo Han made went solo in August 2020 with the digital single "No More." He also started his acting career the same year by playing the male lead in the KakaoTV teen romance web series "A love so beautiful" (2020-21).

He has also starred in the KBS series "Zombie Detective" (2020) and "School 2021" (2021-22). For "School 2021," Yo Han also took home the Best New Actor and the Best Couple Award at the 2021 KBS Drama Awards last December.

Since first becoming known to the public through the audition, Yo Han has walked an interesting career path: first debuting as a group, then as a solo artist and once again as a group. He is still active as a soloist, most recently releasing the EP "Illusion" with the lead track "Dessert" in January.


Yo Han's first solo EP "Illusion" released in January [OUI ENTERTAINMENT]

KIM YO HAN



Date of Birth: Sept. 22, 1999
Zodiac sign: Virgo
Birthplace: Undisclosed
Debut: August 2019 as a member of boy band X1
Agency: OUI Entertainment

Kim Yo Han first became known to the public in 2019 as the winner of Mnet's hit idol audition show "Produce X 101." He debuted as a member of the project boy band X1, consisting of the show's 11 finalists. X1's debut EP "Quantum Leap" still holds the title of highest CD sales by a debuting K-pop act, having sold over 524,000 copies and becoming the first K-pop album by a debuting artist to sell more than half a million copies. After X1 disbanded in early 2020, Yo Han started his solo career that August with the digital single "No More" and also went into acting. He went on to become a member of boy band WEi and is still active as a solo singer.

This information was confirmed by OUI Entertainment on Oct. 18, 2022.

BY HALEY YANG [yang.hyunjoo@joongang.co.kr]