Audiences already delighted by new 'National Singing Contest' host Kim Shin-young
On Sept. 3, comedian Kim Shin-young hosted KBS's ″National Singing Contest″ for the first time in Dalseo District, Daegu. [NEWS1]

A new face is hosting Korea's beloved weekly singing show "National Singing Contest" (1980-) on KBS and she fits the role like a glove.

On Saturday, comedian Kim Shin-young finished shooting her debut episode as host at Dalseo District, Daegu. She began by introducing herself to the many Daegu residents in the audience, who are mostly seniors as the show features contestants singing songs from the trot genre, which is very popular among the older generation.

"I'm from Daegu," Kim said. "I'm so honored to be back here and meet the people of Daegu. I'll do my best to carry on the show that Mr. Song Hae hosted!"

For 34 years, Song Hae, the late television presenter, was the face of "National Singing Contest." Last June, Song passed away at the age of 95. He hosted the show up until his death.

Song was named the "Oldest TV music talent show host" by the Guinness World Records in April this year. When filming for the latest episode wrapped up, Kim said on stage, "Please call me your youngest daughter for Sunday. Thank you!"


On Sept. 3, comedian Kim Shin-young hosted KBS's ″National Singing Contest" in Dalseo District, Daegu. [NEWS1]

Kim grooved along with the contestants' performances. When children came up on stage, Kim squatted down to their eye level and even used Daegu dialect when she spoke to be more approachable to the audience.

Some of the audience members, ranging from ages 50 to 70, told the JoongAng Ilbo that they were "surprised to see how humorous and outgoing she was despite her young age," that she was "the perfect host" and that she was "entertaining and adorable."

Kim, who is 38, is taking the helm of the long-running show at an age some 20 years younger than Song was when he became the host of the show at the age of 61 in 1988. Since debuting under SBS in 2003, Kim has proved herself over the years to be a likable character to all ages.


Kim in 2008, second from left, when one of her most popular characters was a ″little boy" [MBC]

She was initially known for her trademark skits where she dressed up as a little boy. The character relied heavily on her short bowl-cut hairstyle and fuller figure. Over the years, she lost a significant amount of weight, citing that she had started experiencing health problems. She progressively moved past the "little boy" concept and developed a number of other characters that aren't necessarily related to her physical appearance.

In 2018, Kim became a member of girl group Celeb Five, which debuted with the song "I Wanna Be a Celeb." The group was at first comprised of four other female comedians — Song Eun-i, Shin Bong-sun, Ahn Young-mi and Kim Young-hee.


The cover for Celeb Five's single "I Wanna Be a Celeb″ (2018) [SISO]
Kim as her character Second Aunt KimDaVi in 2020 [VIVO WAVE]

Kim created the character Second Aunt KimDaVi, who wears glasses, bright red lipstick and her hair in a bun, and released the single "Gimme Gimme" in 2020. The character is introduced as "your 77-year-old second-born aunt who was born on a rainy day with a story to tell" and speaks using a dialect.

Aside from comedy, Kim has been the host of MBC radio show "Noon Song of Hope" since 2012.

Most recently, she also appeared on the silver screen in the supporting role of detective Yeon-su in the film "Decision to Leave" earlier this year. Director Park Chan-wook praised her acting in the movie.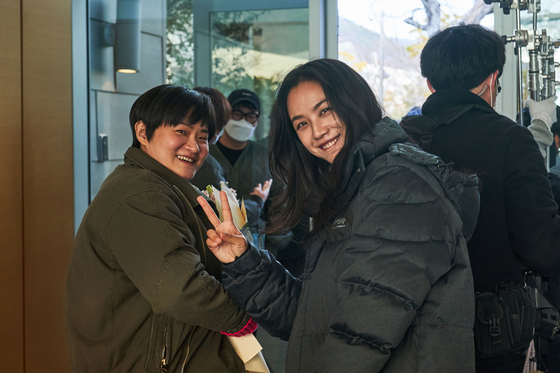 Kim, left, and actor Tang Wei on the set of the film ″Decision to Leave″ [CJ ENM]

Back in May, during an interview with press, Park said that he had "always thought Kim was a born genius and that the movie industry should do whatever it takes to recruit her."

"I just knew that she would be a great actor," Park said. "Kim has spontaneity and good reflexes, as well as the ability to capture specific characteristics and turn them into her own," shown through her previous comedy skits.

"During shooting, turns out I was right — she was born to act. She did say that she was nervous but it didn't show at all. She acted as if she's been doing it her entire life [...] I'm delighted to see her acting in anything she's in."


Audience members watch the live recording of KBS's ″National Singing Contest″ on Saturday at Dalseo District, Daegu. It was comedian Kim Shin-young's first time hosting the show. According to the district, there were some 30,000 people in

"Kim has played a plethora of roles since her debut, ranging from boys to ajumma [middle-aged ladies]," said pop culture critic Kim Sung-soo. "Not only that, she also has great stage presence, which is why she is able to captivate audiences wherever she goes. Typically, when a show's host is changed, especially a show's whose identity is centered on the host, its popularity tends to die down. But I believe that 'National Singing Contest' has found a completely fresh, yet charismatic host."

BY SHIN MIN-HEE [shin.minhee@joongang.co.kr]