Blackpink's Coachella hanbok designers blend old and new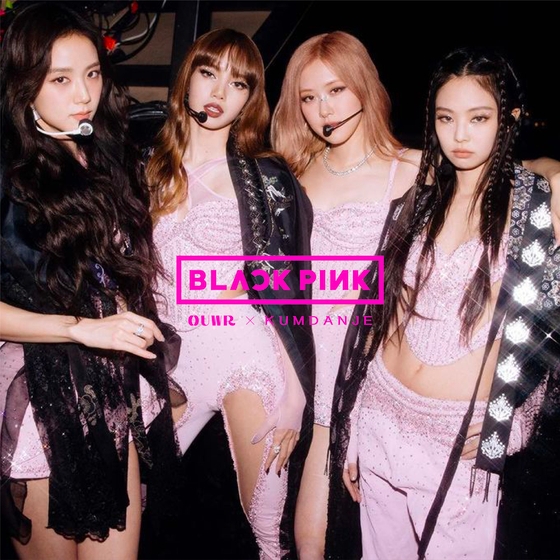 Blackpink wore hanbok (traditional Korean dress) stage outfits designed by Kumdanje and OUWR from Coachella earlier this year. [KUMDANJE, OUWR]

"Jennie, Jisoo, Lisa and Rosé used the ground-breaking moment to pay homage to Korean heritage by arriving onstage in hanbok: a traditional type of dress."

This excerpt from a CNN article dated April 18 documented the groundbreaking moment of Blackpink becoming the first Asian act to ever headline Coachella this year. But the milestone was not the only thing grabbing media attention worldwide.

Another conversation starter was the hanbok that the K-pop group's four members wore on stage. With Blackpink, what its members wore is not simply a reinterpretation of traditional clothing. It was a defining moment marking Asia's place in the music industry.

The Coachella hanbok were created in collaboration with hanbok brand Kumdanje's founder and CEO Lee Il-soon, 61, and her daughter Chang Ha-eun, 27, CEO of pattern design brand OUWR.

Lee has been a hanbok designer since 1993, which influenced Chang's decisions to study fabric and pattern design at the School of the Art Institute of Chicago and later launch OUWR. The JoongAng Ilbo, an affiliate of the Korea JoongAng Daily, met with the mother-daughter pair at the Kumdanje studio in Gangnam District, southern Seoul, last month.

The following are edited excerpts from the interview.


The hanbok stage outfits that Blackpink wore during Coachella were created in collaboration by hanbok brand Kumdanje's founder and CEO Lee Il-soon, 61, left, and her daughter Chang Ha-eun, 27, who is the CEO of the pattern design brand OUWR. [JOONGAN

Q. How did you collaborate with Blackpink?

A. Lee: We had already worked with YG Entertainment's stylists for previous holiday events and for the Blackpink members' solo ventures, so we were tapped to design the Coachella stage outfits. In the draft proposal from YG, I noticed that the stage setting was modeled on traditional Korean buildings and that the four members were due to appear on stage wearing hanbok, then take it off when they begin performing. I thought that we shouldn't restrict ourselves to traditional formality since this was an international performance. So I asked that we collaborate with OUWR, which I believe could help us to better pull off a younger, trendier taste.


How would you describe Blackpink's Coachella stage outfits?

Chang: Our focus for the four black hanbok pieces was allowing the wearer to move around freely, and they was influenced by cheollik, or an overcoat worn by military officials in the Goryeo (918-1392) and Joseon (1392-1910) dynasties. Cheollik consists of a jeogori (the jacket part of hanbok) and pleated skirt. Our version of the cheollik features a jeogori-style top made from traditional hanbok silk fabric and a see-through skirt bottom of modern beady material. It blends tradition with modernity and is representative of Blackpink travelling to and from Korea and the rest of the world.

We arranged a najeon chilgi (lacquerware inlaid with mother-of-pearl) brooch on the shoulders and used fabric embroidered with Korean patterns; the Ten Symbols of Longevity for Lisa, dancheong (traditional decorative coloring on wooden buildings) for Rosé, peony for Jisoo and stars for Jennie.

We also used OUWR's eaves pattern to create the shoulder bands and belts. The eaves patterns were designed after being inspired by the bottom part of giwa (traditional Korean tiles) roofs and rafters. We thought this would blend perfectly with the stage setting, which was reminiscent of giwa roofs.


Hanbok (traditional Korean dress) outfits designed by Kumdanje and OUWR that Blackpink wore on stage at Coachella earlier this year. [KUMDANJE, OUWR]


Foreign outlets, including CNN, gave high marks to your garments.

Chang: I think this was a turning point in hanbok's globalization. We have had so many overseas interview requests, since Coachella is such a huge event. The status of Korean beauty has changed so much thanks to the success of K-pop and K-dramas.

Lee: People in the industry have been working for decades to promote hanbok to a global audience. I've been invited by the Ministry of Foreign Affairs to hold hanbok fashion shows in places all over the world, including the United States, Israel and Australia. The Seattle Times did a huge feature on hanbok. Despite these endeavors, public interest failed to exceed expectations. It's so surprising that Blackpink was able to cause a publicity explosion with a single performance that we could not match over the past 30 years. I'm expecting to see hanbok gain recognition among members of the public as well as within the global market.


Did Blackpink personally like the stage costumes?


Lee: We heard that they loved it. Usually when we make a celebrity's stage outfit, the only information the stylist provides is the body measurements. So it's inevitable that the outfit goes through multiple changes during the fitting process. It takes at least three back-and-forth deliveries for an outfit to be finalized. But surprisingly, the Coachella outfits were finished in one go. Even YG said this was the first time it has ever happened.


What are your thoughts on criticism that the outfits could be damaging tradition, since they took a somewhat unconventional twist on hanbok's original form?

Lee: Designing clothes based on the traditions of our ancestors has been something that Kumdanje has been doing for decades. I initially thought the best hanbok should adhere exactly to a familiar mould. But now, after seeing other emerging designers, I recognize the effort they have been taking to preserve hanbok and that they weren't recklessly cutting and transforming it. I've gained a more positive perception now.

Chang: Each brand has its own uniqueness, but Kumdanje is one that particularly adheres to traditional beauty. This is why my mother initially didn't like modernized hanbok. Personally, I thought that the process of reinterpreting hanbok in various forms was important for its promotion. It would be difficult for modern society to accept it unless it fits in with the latest trend and is reborn into something that we can wear in our daily lives. But then again, it cannot deviate too much from the traditional framework. It's important to maintain a balance.

We use the phrase "pattern hanbok" instead of modern hanbok, meaning that instead of modernizing the garments, we added patterns that emphasize the design aspects. We want people to use our hanbok to add some traditional patterns to everyday clothes.


Blackpink became the first Asian act to ever headline Coachella this year on April 17. [YG ENTERTAINMENT]

Why do you think K-pop girl groups wear hanbok on stage?


Chang: I think there's no other costume that brings out such a diversity of stories and is aesthetically pleasing than hanbok, especially when a Korean singer goes on stage overseas. Hanbok alone showcases the artist's identity, value, pride, heritage and history. The reason why Blackpink's Coachella performance was able to shine is because it was filled with Korean aspects from the stage installation, costumes, fan dance and closing remarks in Korean.


OUWR is relatively a newer brand while Kumdanje has a longer, deeper history. Could you give more details in what OUWR does?


Chang: OUWR reinterprets traditional patterns into designed goods. It's creating something new after being inspired by the beauty in traditional Korean elements. We call our main products "hanbok props." We tried to deviate from the stereotype that hanbok must be worn in one complete set. We incorporated motifs like eaves, lotus flowers and giwa into vests or skirts so that people can incorporate them into their everyday outfits. This allows anyone to wear hanbok stylishly. We even make tote bags and smartphone cases — items that we frequently use every day.


What challenges did you face when studying and putting a twist on our tradition at such a young age?


Chang: So many people think that tradition should be confined to a specific standard or formality. But these traditional elements are fully capable of being incorporated into our daily lives. Anything can be an inspiration to OUWR. It's our goal to allow the charm of tradition to permeate items such as cup holders, blankets, aprons, air fresheners or even candles.


Your bokjumeoni (fortune pouch) products seem to be popular.


Chang: I think our pouch products tend to sell better because it is relatively difficult for the general public to incorporate Korean tradition. First of all, it is expensive. The bokjumeoni Kumdanje sells cost over 1,000,000 won each because they are individually embroidered by master artisans. This is too pricey for most people. But pouches are mainstream; everyone has at least one inside their bags. I've always wondered why no one ever made pouches shaped like a bokjumeoni, since it has a significant meaning. In the past, children would carry them around on holidays like Seollal and greet adults with a bow for good luck. Not many people are aware of the story behind these pouches. I wanted to convey our ancestors' stories to the younger audience.


From what you're saying, you seem more like a storyteller than a designer.


Chang: That is true! I continue to study history, but I also find joy in finding the underlying meaning of our traditional motifs. Why did our ancestors give such meanings to specific items? There is so much wisdom in the table setting for pyebaek (a traditional Korean wedding custom in which the newlyweds honor the groom's parents) or even the height of the walls in our traditional buildings. I think that's what defines Korean heritage. Discovering our culture is another way of understanding self. When I first launched my hanbok brand, I received so much advice from my friends and I realized how much the younger generation wants to learn more about hanbok and our culture.



Blackpink wore hanbok (traditional Korean dress) stage outfits designed by Kumdanje and OUWR from Coachella earlier this year. [KUMDANJE, OUWR]

Did you ever have a hunch that hanbok would gain global recognition when you studied in the United States?


Chang: When I made articles of clothing from ramie fabric or silk in university, a lot of my foreign professors and students would compliment them. I worked at an interior design company after my graduation and witnessed the power of Korean content during my time there. One client told us that they saw "Crash Landing on You" (2019-20), "Kingdom" (2019-) and "Itaewon Class" (2020) on Netflix and requested that their interior be based off some of the scenes from these drama series. It was then that I realized that Korean culture is truly becoming mainstream in the United States. I've also seen foreigners interested in gat (traditional Korean hat) that the seonbi (scholars from the Joseon Dynasty [1392-1910]) wore in "Kingdom," which was really interesting.


What do most Americans think of hanbok?


Chang: In college, there was one event in which I got to introduce Korean culture by wearing hanbok during the Chuseok holidays. To be honest, most of the hanbok available for purchase in the United States aren't really of high quality. I remember feeling disappointed because hanboks available to that Americans did not meet my beauty standards. But Americans were still very interested in hanbok, while also mentioning that it is inconvenient to wear in our daily lives. For hanbok to go global, I think it's crucial that it becomes more practical and wearable.


The significance of tradition seems different for the MZ Generation, or those in their 20s and 30s.


Chang: Knowing and understanding our tradition and heritage is a privilege as Koreans. If you want to know what distinguishes the younger generation, it's that they tend to be more inclusive. Because the older generation were taught traditional values, they think of it as a bit "boring" or "uncomfortable" due to familiarity. On the other hand, tradition is perceived as "fresh" to the younger audience. They are curious, which is why I think it's important to continually reinterpret tradition in a fun way. It may just be a one-time event for foreigners to try on hanbok, but when Korean young people wear hanbok vests or skirts on our streets that's when tradition becomes mainstream culture. It's already a meaningful start when you start carrying small pouches, bracelets or even wear a brooch.


What is OUWR's goal for the future?

Chang: OUWR plans to continue to preserve and inherit tradition, as well as reinvent hanbok and lifestyle items. We are closer to a traditional pattern design brand rather than a hanbok brand. The world is already seeing Scottish tartan or houndstooth check patterns on scarves or coats. It's our goal to find inspiration from traditional Korean patterns and for the entire world to enjoy wearing them.

BY BAE JUNG-WON [kjdculture@joongang.co.kr]