Bruno Mars concert organizer denies stars were given special treatment for front-row tickets
American singer-songwriter Bruno Mars and CEO of Hyundai Card, Ted Chung [SCREEN CAPTURE]
Hyundai Card, the organizer of the Bruno Mars concerts in Seoul over the weekend, said it did not give privileges to celebrities in getting front-row seats at the concert after online posts alleged they were given special treatment.

"Bruno Mars was the only celebrity at the concert venue from the eyes of Hyundai Card," the company's CEO, Ted Chung, said Tuesday in a Facebook post.

A series of social media posts alleged the celebrities who attended the concert were given preferential treatment for marketing purposes.

There were also complaints by concertgoers who had their seats blocked by the walls, giving limited or no views of the concert stage.

Concertgoers also alleged that celebrities were given front-row seats by Hyundai Card.

The competition to get tickets to the concert was fierce, with more than 1.16 million concertgoers attempting to grab a chance to see the American singer-songwriter. All 101,000 tickets, sold over two days, were sold out in less than 45 minutes on the first day and 25 minutes on the second day.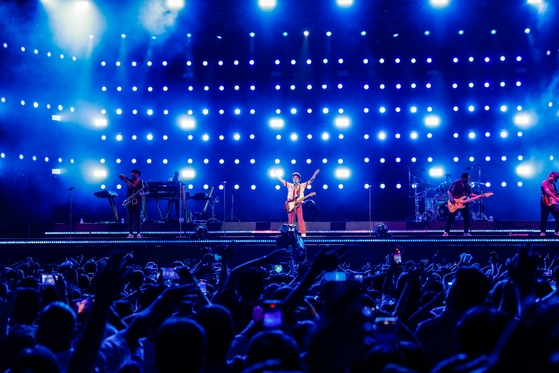 U.S. singer-songwriter Bruno Mars performs his hit tracks during the ″Hyundai Card Super Concert 27 Bruno Mars″ concert held on Saturday and Sunday at the Jamsil Olympic Main Stadium, southern Seoul. [HYUNDAI CARD]
"Not engaging in celebrity marketing is one of the principles of Hyundai Card," Chung said.

Hyundai Card also released a statement on Monday, shortly after the controversy sparked.

"Hyundai Card did not give any invitation tickets to the celebrities. They either received the invitation tickets that were assigned to Bruno Mars himself, or the agency had bought the ticket themselves."

RM and V of BTS, Jennie and Rose of Blackpink, members of boy band EXO, Highlight, Monsta X, NCT, members of girl groups Red Velvet, Le Sserafim, singer G-Dragon, Lim Young-woong, Park Hyo-shin, and actors Ryu Jun-yeol, Park Seo-joon, Lee Je-hoon were among some of the celebrities spotted during "Hyundai Card Super Concert 27 Bruno Mars" on Saturday at the Jamsil Olympic Main Stadium in Songpa District, southern Seoul.

Kim Suk-joong, the older brother of Jin of BTS, was also seen at the concert.

"It is not true that I acquired the ticket through illegal ticket sales or expedient ways," Kim said Monday in an Instagram post.

"I attended the concert through a transferable invitation ticket that I received from my acquaintance after he could not attend the concert due to his personal circumstances."

Kim shared a photo of his ticket, which stated that the ticket was given to "the Black [Hyundai credit card] holder and one accompany."

Hyundai Card issued refunds to concertgoers who had their views blocked by walls and structures of the venue.

To find out more about Bruno Mars, visit Celeb Confirmed!

BY CHO YONG-JUN [cho.yongjun1@joongang.co.kr]