[CELEB] Actor Jeon Yeo-been says weird is wonderful
Jeon Yeo-been [NETFLIX]

After gaining worldwide recognition through tvN drama series "Vincenzo" (2021) for her role as a headstrong lawyer, actor Jeon Yeo-been is back in Netflix's sci-fi mystery series "Glitch" as a believer of and witness to aliens and UFOs.

The series revolves Jeon's character who becomes utterly convinced that aliens took her boyfriend when he goes missing for 10 days. Jeon's character and her childhood friend and fellow UFO enthusiast portrayed by singer and actor Nana, decide to start their own investigation.

After first witnessing a UFO during her time in middle school, Jeon's character often witnesses alien creatures staring at her or sending her signals. As the only person who sees them, she struggles to ignore them and lead a normal life. That is until her boyfriend disappears without a trace.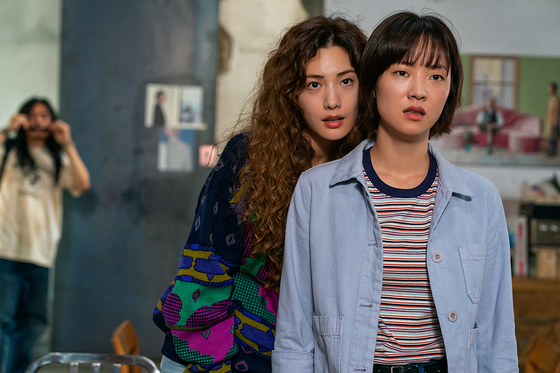 Jeon Yeo-been, right, portrays the protagonist who witnesses aliens and UFOs in Netflix sci-fi mystery series "Glitch." When her boyfriend goes missing, she and her childhood best friend become convinced that he has been kidnapped by aliens. Singer a

Jeon revealed at a local press interview conducted at a cafe in Samcheong-dong, central Seoul, on Tuesday that writer Jin Han-sae, known for another Netflix hit series "Extracurricular" (2020), wrote "Glitch" with her in mind for the lead role.

"I'd asked him why he thought of me for the role," Jeon said. "He said there was a scene from 'Melodramatic' [on JTBC] which stuck with him, when my character defiantly stares back at her boss as she chastises her. That's when he thought Ji-hyo [the protagonist] should be me."

"Something big happened to her, and it's an extraordinary event which makes it hard for her to comprehend what is real and what is an illusion," Jeon said. "So she did everything she could to put it behind her — she tells herself that she's an ordinary and responsible person who does the job laid in front of her. It seems like a stretch to say I could relate to her, but I did. Everyone, one way or another, has an alien side within them, which they don't want to reveal to others. Ji-hyo is one of them among the crowd. But she couldn't pretend that everything is going about as it should be when Si-guk [her boyfriend] goes missing.

Jeon believes that it is okay to be a little strange or peculiar.

"I cannot pinpoint exactly what my alien side is, but I do not want to get rid of it," she said. "I want to co-exist, and I do not think it's particularly weird or eccentric. And it's okay to be that way."


Jeon Yeo-been [NETFLIX]

Jeon's character's journey leads her to a reunion with her childhood friend, and together they get closer to the truth that each of them has either attempted to cover up or discover since their teenage years.

"Through their adventure, Ji-hyo learned that she was the kind of person who had courage to face the truth. And through her journey, she gained courage to trust people around her, which she hadn't been able to do before."

At the local press event before the release of the series, director Roh Deok described the childhood friend characters as "each other's soulmates." Although "Glitch" deals with mysteries surrounding aliens, the series is essentially about friendship.

"I've talked about their relationship with director Roh, and we came to the conclusion that it's one which can't quite be labeled or put down in words," she said. "[Their connection] has a bigger meaning than that. I basically think that Ji-hyo and Bo-ra [her childhood friend] are one. Each of them are complete, yet they are incomplete as well. When the two meet again, they can now walk in hand-to-hand and face the world together."

Jeon debuted through the 2015 historical fiction film "The Treacherous," and caught the eye of the public in an independent film "After My Death" (2018), in which she portrayed a high school student who becomes the main suspect in her best friend's disappearance. She earned global recognition from her role in "Vincenzo" which streamed on Netflix, both for her quirky character and also her obvious chemistry with actor Song Joong-ki who portrays the protagonist in the series.


Jeon gained worldwide recognition for her strong chemistry with actor Song Joong-ki, left, in tvN drama series "Vincenzo" (2021). [NETFLIX]
In Netflix film "Night in Paradise" (2021), Jeon portrays a woman who takes revenge on a mob who killed her family. [NETFLIX]

"I think I'm a people person," Jeon replied when asked about her exceptional chemistry with her counterparts. "I like people and I truly want to have a good time with them. But I got lucky too, to be able to work with people that clicked with me."

Jeon, who's been a fan of both Jin and Roh, said she made promises to work with them again in the future.

"Also with Nana too," she added. "Because we've already been in roles as soulmates, maybe next time, it could be fun if we appear as enemies."



Jeon Yeo-been


Date of birth: July 26, 1989
Zodiac Sign: Leo
Birthplace: Gangneung, Gangwon
Debut: May 2015 through the film "The Treacherous"
Agency: management mmm


Jeon Yeo-been debuted through 2015 historical fiction film "The Treacherous" and has appeared in numerous small roles since then. She was praised for her role in the independent film "After My Death" (2018) and is also known for her roles in films "Secret Zoo" (2020), "Night in Paradise" (2021) and drama series "Be Melodramatic" (2019) on JTBC and "Vincenzo" (2021) on tvN. She is expected to appear in upcoming the Netflix series adapted from hit Taiwanese drama "Someday or One Day" and the films "Cobweb" by director Kim Jee-woon and "Harbin" by director Woo Min-ho.

This information was confirmed by management mmm on Oct. 14, 2022.


BY LEE JAE-LIM [lee.jaelim@joongang.co.kr]