[CELEB] Actor Ko Kyoung-pyo's schedule can't get any busier
Actor Ko Kyoung-pyo [SIDUS PICTURES]

Actor Ko Kyoung-pyo has had five films released since May, including Netflix's "Seoul Vibe" and local box office hit "6/45" — but the year isn't over for the prolific actor.

He is set to appear as a lead in tvN's new romantic comedy "Love in Contract" which will begin airing on Wednesday.

"Love in Contact" is about the operators and the clients of a matchmaking business that provides single people with temporary partners to bring to public events such as school reunions.

Actor Park Min-young will take on the role of a professional fake wife who gives a helping hand to people that live alone. Ko plays a rather mysterious long-time client of Park who keeps his job and other personal information about himself hidden. Actor Kim Jae-young plays a celebrity and the youngest son of a conglomerate company who becomes Park's new client.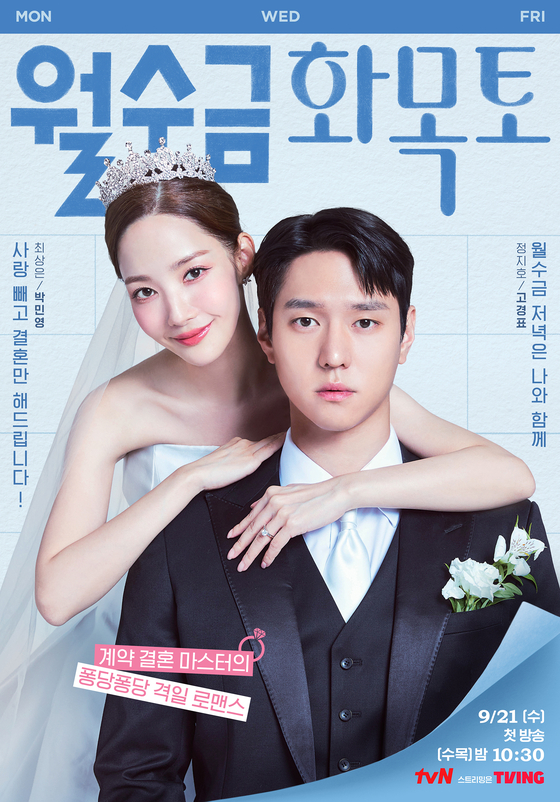 Actors Ko Kyoung-pyo, right, and Park Min-young on a poster for the upcoming tvN rom-com series "Love in Contract" [TVN]

"The subjects that the series dealt with were interesting and refreshing to me," said Ko during an interview released by his agency CL& Entertainment, citing the reasons why he decided to take part in the series. "I have also always wanted to work with director Nam Sung-woo."

Director Nam, who took the helm of "Love in Contract," is best known for directing series such as "My Roommate is a Gumiho" (2021), "Kkondae Intern" (2020) and "Kill It" (2019).

About why his character is so secretive compared to others on the show, Ko said that it won't remain too mysterious for long. "[The character] will loosen up quickly as the series proceeds. He is slightly shy and doesn't have good social skills. Yet, he is a charming character who changes as he starts falling in love."

"Love in Contract" is a 16-part series. It will air every Wednesday and Thursday at 10:30 p.m.


Ko Kyoung-pyo, left, and Park Min-young during a scene from the upcoming tvN rom-com "Love in Contract" [TVN]

In December, Ko is slated to release his seventh work of the year on Disney+.

Fantasy thriller series "Connect" is about a new race of humans called "Connect" who have bodies that never grow old. Dong-soo, one of the Connects portrayed by Jung Hae-in, gets kidnapped by an organ trafficking organization and loses one eye. He later learns that his lost eye has been transplanted in a notorious serial killer in Korea and he begins to track down this killer.

Ko portrays a character who, by chance, gets his hands on the eye of Dong-soo.

Japanese filmmaker Takashi Miike led the series which marks his first time to direct a Korean work.


Actor Ko Kyoung-pyo in a scene from the comedy film "6/45" which hit theaters in August [TPS COMPANY]

Ko's first film to hit the screen this year was a Tving original titled "Back to the Hong Kong." It humorously depicts the process of filmmaking from the perspective of directors. Ko portrays a young director who is having a hard time making a film that captures the attention of audiences.

Ko subsequently hit home runs with two comedies "Seoul Vibe" and "6/45," which were both released in August.

In "Seoul Vibe" which is available on Netflix, Ko portrayed a rambunctious club DJ who is part of a ragtag team that sets off on an undercover mission in the days leading up to the 1988 Seoul Olympics to dismantle a massive money-laundering ring in hopes of achieving the American Dream. Ko acts alongside Yoo Ah-in, Ong Seong-wu, Lee Kyoo-hyung and Park Ju-hyun.

Ko's "6/45" which hit theaters one day after "Seoul Vibe," topped the local box office for eight consecutive days and sold over one million tickets within 12 days of its release.

"6/45" is about South and North Korean border soldiers who covertly meet after a first prize lottery ticket from South Korea blows over the military demarcation line, entering North Korea. Ko plays one of the South Korean border soldiers and the initial owner of the lottery ticket. Other actors in the film include Lee Yi-kyung and Kwak Dong-yeon.

Ko also made a brief appearance in "Parasite" director Park Chan-wook's Cannes-winning romance film "Decision to Leave" as a supporting actor in July and made a special appearance in the independent film "No Surprise" in early August. "No Surprise" revolves around three friends who all studied film in college.

Ko is known as an actor who doesn't discriminate against roles based on their size or the amount of screen time.

In an interview with local press last month, he said that he doesn't think he should only insist on taking on lead roles because he has reached a point in his acting career that would be considered "successful."

"I don't act so that I can play only the lead roles. It doesn't matter if the part is a supporting role or an extra; the important thing is that I take part in that project and the time that I spend making that work. Time is limited and I want to show many different facets [as an actor]. There is no time for me to discriminate between lead and non-lead roles."



Ko Kyoung-pyo, left, during a scene from hit tvN drama series "Reply 1988" (2015) [TVN]

Ko debuted as an actor in 2010 through MBC drama series "Jelly Fish 2" and has since starred in some 40 movies and drama series. He was also a regular cast member on seasons one through three of "SNL Korea," from 2011 to 2012.

His breakthrough role came in 2015 when he was cast as one of the leads in the retro coming-of-age drama "Reply 1988" that aired on tvN. Some of the other works that Ko is best known for are SBS's "Dare to Dream" (2015), tvN's "Sikago Tajagi" (2017) and JTBC's "Private Lives" (2020).


Actor Ko Kyoung-pyo [

Ko Kyoung-pyo

Date of birth: June 11, 1990
Zodiac sign: Cancer
Birthplace: Incheon
Debut: 2010 through the MBC drama series "Jungle Fish 2"
Agency: CL& Company

Actor Ko Kyung-pyo debuted in 2010 as a supporting actor in the MBC drama series "Jungle Fish 2." His breakthrough role came in 2015 when he was cast as one of the leads in the retro coming-of-age drama "Reply 1988" that aired on tvN. Some of the other works that Ko is best known for are SBS's "Dare to Dream" (2015), tvN's "Sikago Tajagi" (2017), JTBC's "Private Lives" (2020) and Netflix original film "Seoul Vibe." For his performance in "Dare to Dream," he received the New Star award at the 2016 SBS Drama Awards.

This information was confirmed by CL& Company on Sept. 15, 2022.


BY LEE JIAN [lee.jian@joongang.co.kr]