[CONCERT] Bruno Mars linguistically charms fans in Seoul performance
U.S. singer-songwriter Bruno Mars performs his hit tracks during the ″Hyundai Card Super Concert 27 Bruno Mars″ concert held on Saturday and Sunday at the Jamsil Olympic Main Stadium, southern Seoul. [HYUNDAI CARD]

" Bogosipeoyo my baby," singer-songwriter Bruno Mars sang in Korean, changing the lyrics of his 2016 hit track "Calling All My Lovelies" for a special night on Saturday in his first performance in the country in nine years.

The Korean phrase means, "I miss you."

While it's customary for pop stars to learn a phrase or two in the respective languages of the countries they perform during a tour, the U.S. singer took it to another level by not only giving greetings in Korean but also changing the lyrics of his song just for the Korean audience.

" Annyeong, Korea. Annyeong, Seoul!"

An excited Bruno Mars shouted to concertgoers on Saturday evening with the Korean greeting annyeong, meaning hello, as the crowd hollered back in joy for the first night of the two concerts, titled the "Hyundai Card Super Concert 27 Bruno Mars."


U.S. singer-songwriter Bruno Mars performs his hit tracks during the ″Hyundai Card Super Concert 27 Bruno Mars″ concert held on Saturday and Sunday at the Jamsil Olympic Main Stadium, southern Seoul. [HYUNDAI CARD]

The performance was held at Jamsil Olympic Main Stadium, southern Seoul. A total of 101,000 tickets to the two concerts were sold out in mere minutes when sales opened in late April.

"It's been a long, long way coming here tonight. The last time I was here, that was nine years ago. We came out here with hope that we get everybody here dancing tonight, singing tonight."

The night began with his 2016 funk disco song "24K Magic," followed by a set list filled with his biggest and bests including "Finesse" (2016), "Treasure" (2012), "That's What I Like" (2017) and "Runaway Baby" (2010).

Before performing his iconic ballad "When I Was Your Man" (2012) nearing the end of the show, Bruno Mars played a medley of some of his well-known songs like "Grenade" (2010) and "Talking to the Moon" (2010).


U.S. singer-songwriter Bruno Mars performs his hit tracks during the ″Hyundai Card Super Concert 27 Bruno Mars″ concert held on Saturday and Sunday at the Jamsil Olympic Main Stadium, southern Seoul. [HYUNDAI CARD]

His localized stage manners heated up the atmosphere as he frequently called out to "Seoul," adding Korean phrases in between performances such as "Hey Seoul, I think I want to marry you" before beginning "Marry You" (2010). He even threw in a " Jaemi isseoyo?" asking whether the crowd was having fun.

Born in 1985 in Hawaii, Bruno Mars debuted with the studio album "Doo-Wops & Hooligans" (2010) and rose to instant stardom with hit tracks from the compilation, including "Grenade," "Just the Way You Are," "Talking to the Moon" and "Runaway Baby."

The singer is well-known not only for his unique voice but his amicable manner that he showed on TV shows and interviews, as well as the energetic performances he gives at each event. He has been nominated hundreds of times for music awards and has won numerous awards at the biggest ceremonies in the world, including the Grammy Awards' Album of the Year for "24K Magic" in 2017 and Song of the Year for "That's What I Like" in 2018.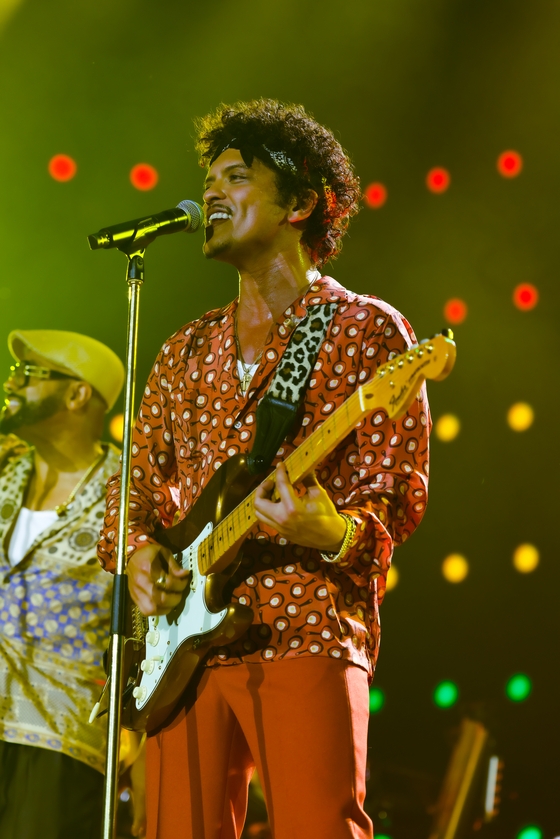 U.S. singer-songwriter Bruno Mars performs his hit tracks during the ″Hyundai Card Super Concert 27 Bruno Mars″ concert held on Saturday and Sunday at the Jamsil Olympic Main Stadium, southern Seoul. [HYUNDAI CARD]

The Seoul concert was held as the 27th edition of Hyundai Card's "Super Concert" series and is the largest ever to be held by a visiting foreign artist, according to organizers of Hyundai Card. The immense demand for the performance caused resold tickets to reach six times the retail price, surpassing 3 million won ($2,350) at one point.

The Jamsil Sports Complex was overflowing with visitors on Saturday as it coincided with the concerts of K-pop girl groups (G)I-DLE and Mamamoo and a baseball match between the Doosan Bears and the LG Twins. Over 140,000 people are expected to have visited the sports complex over the weekend.


BY YOON SO-YEON [yoon.soyeon@joongang.co.kr]