Gang Dong-won is back in uniform in 'Dr. Cheon and Lost Talisman'
Actor Gang Dong-won [AA GROUP]

There's a saying among Korean moviegoers that if Gang Dong-won dons a uniform, that film will succeed at the box office. That was the case with "Temptation of Wolves" (2005), "Kundo: Age of the Rampant" (2014) and "The Priests" (2015), but will "Dr. Cheon and Lost Talisman" continue that tradition?

"Dr. Cheon and Lost Talisman" follows the story of the titular Dr. Cheon, played by Gang, who is an exorcist who does not believe in ghosts. He comes face to face with a daunting opponent as a young woman comes to him with a new case in which he must fight Beom-cheon, a powerful devil played by Huh Joon-ho. "Dr. Cheon and Lost Talisman" opens in theaters on Sept. 27, just in time for the Chuseok holidays.

"I think what is appealing about 'Dr. Cheon and Lost Talisman' is that it does not follow the old format of most films in this genre," Gang said during a group interview with local reporters at a cafe in Jung District, central Seoul, on Thursday.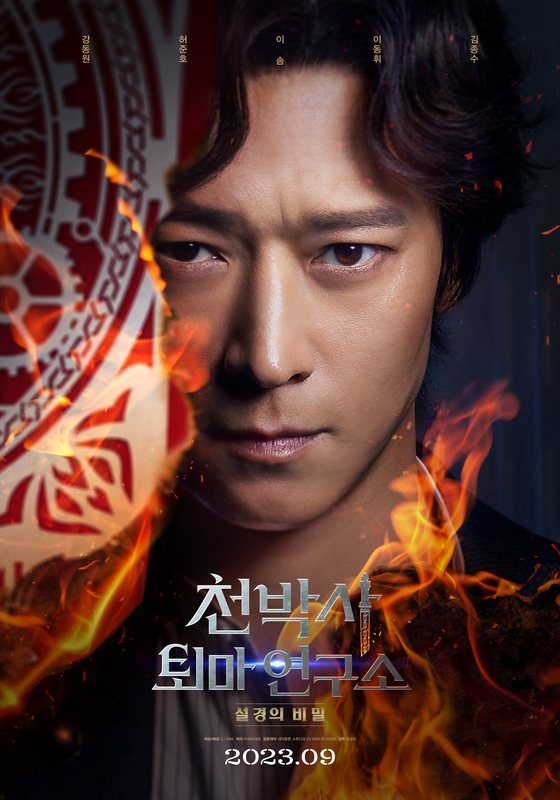 Main poster for ″Dr. Cheon and Last Talisman″ [CJ ENM]

"We have a protagonist who is an exorcist but who doesn't even believe in ghosts, and we have him running a YouTube channel — these little twists bring comedic and refreshing factors to the film. We were aware of the fact that 'Dr. Cheon' will be released in tandem with the holidays, and I think this will be good entertainment for the family during the holidays."

Gang, who debuted in 2004 with the romantic comedy "Too Beautiful to Lie," immediately saw a breakthrough the following year with "Temptation of Wolves" (2005) and skyrocketed to a stardom that has yet to slow down. Barring the two-year hiatus due to his military service between 2010 and 2012, Gang has appeared consistently in critically and commercially successful films for the past two decades, including in "Voice of a Murderer" (2007), "Jeon Woo-chi: The Taoist Wizard" (2009), "The Priests" (2015) and "Peninsula" (2020).

"The Priests" topped the box office at No. 1 when it was released, ultimately garnering 3.96 million moviegoers in total, while "Kundo: Age of the Rampant" also saw 4.77 million viewers — a testament to the thought that when Gang puts on a uniform in a film, it does well.


Gang Dong-won plays Dr. Cheon, an exorcist who does not believe in ghosts, in the upcoming film ″Dr. Cheon and Last Talisman″ [CJ ENM]

For such a prolific actor, the job of selecting which films to appear in must be a task in and of itself — but the process is rather simple, according to the actor.

"I know immediately when I read a script that I like," Gang said. "I can picture myself in the roles easily at this point, and if I strike a liking to the story, that is how I decide my next project."

In "Dr. Cheon and Lost Talisman," Gang had many action scenes where he chases down and fights with ghosts. The actor had to perform such scenes with an array of weapons, including long swords and daggers. Gang claimed that he "bore the brunt of it" in filming these action sequences.

"I kept being at the receiving end of all the blows during the action sequences, and only in the final scene did I get to make my punch," Gang said.

"I hope the audience enjoys watching me getting beat up," he said, laughing.

Kim Seong-sik, the director of "Dr. Cheon and Lost Talisman," is a newcomer who has previously worked as an assistant director for Park Chan-wook on "Decision to Leave" (2022) and also for Bong Joon-ho on "Parasite" (2019). Working with new directors always lends to new discoveries in creativity and a distinct enthusiasm for filmmaking, Gang said.

"I work a lot with new directors, and I think that is because I enjoy their enthusiasm and how they channel their creativity," Gang said. "Not that more seasoned directors are not enthusiastic or are uncreative, but there is certainly something about new directors on set that makes you want to work closely with them."


Gang Dong-won as Dr. Cheon in ″Dr. Cheon and Last Talisman″ [CJ ENM]

Now having been in the film industry for 20 years, Gang, at 42, could be called a veteran actor — but the words that headline articles and reviews about his movies are still in reference to his looks, rather than his acting chops. Prior to his acting career, Gang was active as a model, having walked for shows in Paris and Seoul.

He feels flattered by this, but also said that it is time for his looks to wane.

"I am always grateful that so many fans still find me attractive, but I think now I am more comfortable with taking on roles that are more fitting for middle-aged actors since that is what I am," Gang said with a chuckle. "When I was younger, I hesitated to take on roles that would make me appear older and often pondered over whether I was well-fitted for the role. But with age, I have a larger spectrum, I think."

Gang not only performs as an actor but is also known for helping produce a number of his films, most recently for Hirokazu Kore-eda's "Broker" (2022), in which he also appeared.

The actor expressed hopes to continue his production work and his a wish to become a "global star" by his late 40s.

"I am currently producing multiple projects, and I hope that these will come to fruition soon," Gang said. "I also hope that I can grow into a global star by working in more international projects in the future. I think at this point I have grown into an actor who can be comfortable with any direction he receives and feels freedom on set, and from this I want to take the next step and become a global actor."



To find out more about Gang Dong-won, visit Celeb Confirmed!


BY LIM JEONG-WON [lim.jeongwon@joongang.co.kr]