Hallyu's rise to global stardom, and the countries that helped it get there
Singer Psy was the cover model for Billboard magazine in 2012. [NATIONAL MUSEUM OF KOREAN CONTEMPORARY HISTORY]

Korea has become a cultural juggernaut — but it didn't happen overnight. The rise of Hallyu had been progressing over the past few decades, slowly but steadily, in large part due to help from other countries.

"It's important to reflect on how Hallyu developed over the years, but it should be noted that it wasn't autogenous," Kwon Gi-jun, curator at the National Museum of Korean Contemporary History in Jongno District, central Seoul, said on Wednesday.

Kwon curated the museum's latest special exhibition, "The Pop Culture We Loved and Rise of the Korean Wave," which kicked off last week. Thirteen thousand people have already visited the show, with around one-third of them estimated to have been foreigners, he said.

The show traces the history of K-culture — including music, television dramas and film — and attempts to characterize them by what brought them to success, based on their active exchanges with foreign pop culture. It's basically a cram study sesh for anyone interested with everything Korean culture.


A vinyl record of "Their First Album" (1964) by one of Korea's first girl groups, the Kim Sisters. [NATIONAL MUSEUM OF KOREAN CONTEMPORARY HISTORY]

"With this exhibition, we wanted to show that Hallyu was able to create the reputation it has today thanks to how various countries affected Korea in terms of culture," Kwon said. On view are resources like movie posters and old VHR tapes, not just about Korean culture but also from the United States, Japan and Hong Kong.

The exhibition is held in commemoration of the 70th anniversary of the Korea-U.S. alliance.

In chronological order, the first part explores how Americans have enjoyed Korean music — especially in the Army.


A dress singer Hyun Mi wore on stage when she performed for the U.S. Army in Korea [NATIONAL MUSEUM OF KOREAN CONTEMPORARY HISTORY]

Following the stationing of U.S. soldiers in Korea after the Korean War (1950-53), singers like Hyun Mi and Lee Geum-hee would go perform for the troops. The actual stage outfits that the two wore for such performances are on display at the exhibition.

Vinyl records, including those of singers Ok Du-ok and the Kim Sisters, both considered the first Korean acts to enter the American music industry in the 1950s, were popular among the U.S. soldiers. The music lounge C'est Si Bon, which used to be located in Mugyo-dong in Jung District, central Seoul, was the go-to place for when people wanted to listen to music back then.

It was hardly unprecedented when Bruno Mars made headlines in the local media back in May due to an overload of eager fans trying to purchase a ticket for his first concert in Korea in nine years, Kwon said. "It was a very similar situation when [English singer] Cliff Richard visited Korea in 1969, in that they were both filled with fanatics."


Hong Kong videotapes from 1985 to 2008 [NATIONAL MUSEUM OF KOREAN CONTEMPORARY HISTORY]
Pirated cassette tapes of songs by X-Japan, a Japanese rock group, from the 1990s [NATIONAL MUSEUM OF KOREAN CONTEMPORARY HISTORY]

Then, in the 1970s, Koreans started enjoying Hong Kong film productions and Japanese manga, by which Korean pop culture began to be heavily influenced.

Despite Japanese pop culture specifically being banned in the country by the Korean government until 1998, manga series like "Slam Dunk" (1990-96) and "Dragon Ball" (1984-95) were extremely popular among the general public in Korea through the black market.

Because of the ban, there were heaps of Korean comics being published that ripped off the original characters and plot of their Japanese counterpart, with only the title slightly changed. Examples include "Run Mazinger X" (1978, translated), which copied Japan's "Mazinger Z" (1972-74) and its super robot protagonist.


A poster for the Korean comic series "Run Mazinger X" (translated) from 1978, which imitated the Japanese manga "Mazinger Z" and its super robot protagonist [SHIN MIN-HEE]

Copyright laws at the time were weak, so even though it was frowned upon in society, punitive measures were rarely actually taken, Kwon explained.

"It was in 1987, when Korea joined the Universal Copyright Convention, that it started taking copyright infringements seriously, and finally lifted its regulations on manga imports," Kwon said, even though Japanese film, music and television dramas were still restricted.

Still, the influence lingered on and became apparent in the production of Korea's own comic magazines, like "Mink" or "Sugar" — which legally serialized Japanese manga by translating them into Korean.


The first issue of cartoon magazines, which serialized Japanese manga in Korea after they became legalized [NATIONAL MUSEUM OF KOREAN CONTEMPORARY HISTORY]
An album by H.O.T. that the boy band released in China in the 1990s [NATIONAL MUSEUM OF KOREAN CONTEMPORARY HISTORY]

The word Hallyu was first used in a Taiwanese media outlet "Lianhe Wanbao" in 1998. The article stated that K-pop groups Diva, JuJu Club and H.O.T. would each start activities in Taiwan and that it expected a "Hallyu boom."

Even the birth of K-pop powerhouse SM Entertainment was influenced by American boy band New Kids on the Block when it visited Korea in 1992, Kwon said, as founder and former chief producer Lee Soo-man had attended the concert and was mesmerized by the performance and the changing music industry.

After K-pop acts, like BoA, Super Junior, Kara and BTS, and film or television productions like "My Love from the Star" (2013), "Oldboy" (2003) and "Parasite" (2019) spread to their international audience, K-culture finally looked to have established a solid global presence for becoming the Hallyu of today.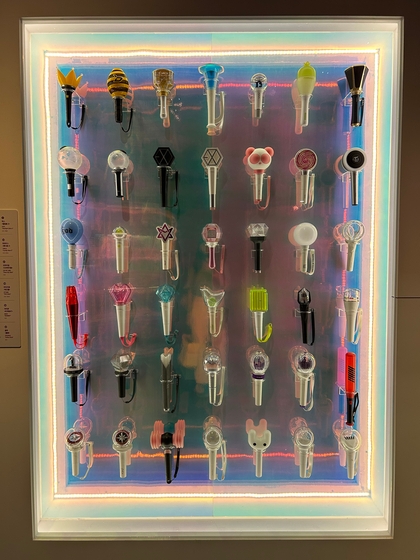 A collection of light sticks that represent each K-pop group, including BTS, SHINee, Seventeen and Blackpink. Most of them are connected via internet-of-thing technology. [SHIN MIN-HEE]

"The fan culture itself — called deokjil — may be universal, but it's true that Korea is unique for things like having light sticks," Kwon continued. "Like how Korea was able to get this far by the influence of pop culture from all over the world, we have hopes that Korea will be able to do to same for other countries."

"The Pop Culture We Loved and Rise of the Korean Wave" continues until Sept. 3. The National Museum of Korean Contemporary History is open from 10 a.m. to 6 p.m. every day, with hours extending to 9 p.m. on Wednesdays and Saturdays. The exhibition is free to all.

BY SHIN MIN-HEE [shin.minhee@joongang.co.kr]