In 'Remarriage & Desires,' Netflix Korea indulges in the guilty pleasure of makjang
Kim Hee-sun as her character Hye-seung in the new Netflix Korea original series "Remarriage & Desires" [NETFLIX]

Tantalizing romance, mysterious murders, salacious affairs and a dishy millionaire — makjang, otherwise known as a Korean soap opera, is one of the most under-appreciated yet beloved genres to grace the local small screen.

With its new series "Remarriage & Desires," Netflix is indulging in this guilty pleasure for the first time.

The eight-part series, which was unveiled all at once last week, revolves around clients of an exclusive matchmaking agency where women strive to marry the most desirable bachelor and enter into the highest echelon of society. Forty-five-year-old veteran actor Kim Hee-sun portrays a widowed single mother named Hye-seung who plots revenge against her late husband's scheming mistress whom she meets at the matchmaking agency.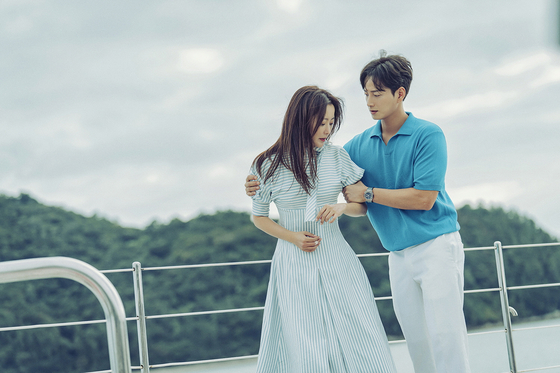 Kim Hee-sun as her character Hye-seung, left, and actor Lee Hyun-wook in the role of the wealthy bachelor Hyeong-joo in the new Netflix Korea original series "Remarriage & Desires" [NETFLIX]

In a video call with the local press on Monday and Wednesday, Kim and the director of the series, Kim Jeong-min, discussed the universal pull that a makjang drama has and other uniquely Korean aspects of "Remarriage & Desires" that they hope will appeal to viewers around the world.

"This drama taps into the fundamentals of human beings," said Kim Hee-sun. "Even if our culture is different, we all have similar desires and greed for a better life, which is why I think people around the world will be able to enjoy the drama."

Though she avoided using the word "makjang," she described it as one of those stories where viewers "curse the characters yet still watch it."

"That's why these types of dramas have been around for such a long time," she added.

Makjang took off in the early 2000s and has since maintained a strong and steady viewer base.


Kim Hee-sun as Hye-seung during a scene of "Remarriage & Desires" [NETFLIX]

While containing all the dramatic factors that make up for a true makjang, "Remarriage & Desires" adds a fresh twist to the genre by setting up the plot in a matchmaking agency, a backdrop that hasn't been used in K-dramas before.


"I am under the impression that this type of company only exists in Korea," said Kim. "Scoring and ranking people in the process of falling in love may seem snobby or materialistic, but I thought it could also be an interesting subject that could trigger curiosity for viewers outside Korea."

Matchmaking companies, called "marriage information companies" in Korea, are unique to the country in that they rank each client according to a plethora of information, such as physical appearance, weight, height, financial assets, religion, blood type, hobbies, and even one's parents' occupations. They then match men and women who fit each other's ideals and set up dates for the two.

As taboo as the industry may seem, it has become essentially as commonplace as dating apps in Korea. According to data published on June 23 by the Ministry of Gender Equality and Family, 1,121 matchmaking companies were registered in the country. Duo, one of the largest local matchmaking companies, had 35,732 registered clients as of July 18. In the year 2021, Duo turned out 36.3 billion won ($27.7 million) in profit.

In the drama, Hye-seung's mother signs up her up for the service with 10 million won. In real life, prices can go as high as 50 million won.


Actor Kim Hee-sun [NETFLIX]

"I actually really agree with the phrase 'marriage is a business,'" Kim said, referring to the signature line in "Remarriage & Desires." "After all, marriage is about sustaining a partnership while holding up one's role in the relationship. Having rules and maintaining boundaries makes for a happy married life."

She added that she was able to relate to Hye-seung and her decisions throughout the show because the actor herself was a mother.

"I have been married for about 16 years and have a daughter in middle school. As I was filming the drama, it crossed my mind that if I was reborn, I would like to try falling in love with someone who has all the conditions that I look for in a husband," she said, quickly adding, "Not to say that I have a bad marriage right now!"


Director Kim Jeong-min [NETFLIX]

Director Kim Jeong-min said that he visited matchmaking companies himself prior to filming and had extensive discussions with the workers there in order to accurately portray the company in the show.

"One thing that really stood out to me after closely studying marriage information companies was that they were extremely careful to not release any information about their clients. All the consulting rooms were closed-door. It had a secretive atmosphere overall."

This secrecy that Kim described is reflected in the series, adding a healthy dose of tension. It is especially evident in the masquerade scene where clients mingle using nicknames and face coverings.

Director Kim emphasized that the setting of the show wasn't selected for the purpose of delivering a social message or to criticize the present-day culture; rather, it was simply used as a means to relay the characters' desires.

"I did not go into the series with prejudices against marriage or matchmaking companies," he said. "I hope that this show gets viewers thinking about their true desires and reflecting on them."


Kim Hee-sun as her character Hye-seung, right, and actor Jung Eugene in the role of Yoo-hee in the new Netflix Korea original series "Remarriage & Desires" [NETFLIX]

Just six days after its release, "Remarriage & Desires" made it onto Netflix's top 10 Global TV Series chart and top 10 Korea TV Series chart.

As of Wednesday, "Remarriage & Desires" ranked No. 9 on the global chart and No. 2 on the local chart, according to analytics Flixpatrol.

"I don't know if I really understand how popular the show is right now," said Kim Hee-sun, "but people I know have been telling me that they were going to watch just one episode but ended up binge-watching all eight and going to bed in the morning. Also, I am gaining over 10 thousand followers every day! I'm not one to pay too much attention to my number of Instagram followers, but it still makes me incredibly happy and thankful."

BY LEE JIAN [lee.jian@joongang.co.kr]