[INTERVIEW] Trendz takes persistence to the next level in 'Still On My Way'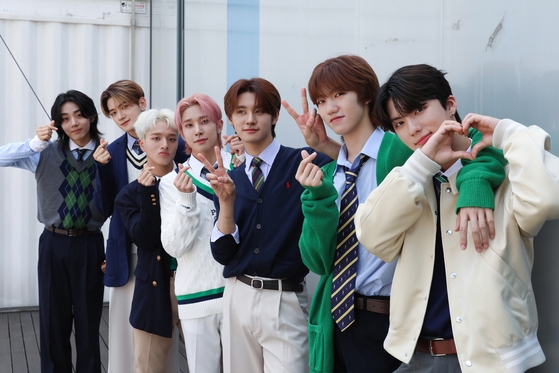 Boy band Trendz [GLOBAL H MEDIA]

Boy band Trendz is second to none when it comes to powerful choreography in K-pop — so much so that some fans worry about members' health. But rest assured, they are determined to keep themselves fit both physically and mentally for their latest single, "Still On My Way."

"Still On My Way" was released today at noon as the band's third single, just six months after its previous single "Blue Set Chapter. [New Dayz]." Producer Leez, who also worked on the boy band's previous two singles, took the helm.

"We were taught the basics so thoroughly during our trainee years that, for us, this is all easy," leader Hankook told the Korea JoongAng Daily in an interview held prior to the release of the new album on Wednesday.

"You'll see that it's very different from what we've been doing up until our last song, but we still roll around, throw each other and run around and everything," ra.L said with a laugh.


Boy band Trendz [GLOBAL H MEDIA]

Trendz, pronounced "trend zee," debuted with seven members — Havit, Leon, Yoonwoo, Hankook, ra.L, Eunil and Yechan — in January 2022 with its first EP "Blue Set Chapter 1. Tracks." Before its debut, the band was known for uploading dance cover videos of other popular K-pop songs.

In past performances, Trendz showed off some of the toughest moves in its repertoire where members would do somersaults or even throw each other around on the stage. Such zeal helped the young boy band build a name for itself in the K-pop market flooded with newly-debuting groups.

With "Still On My Way," the band saw the number of its overseas pre-orders rise by three times that of its previous work, according to its agency Global H Media. The band was also invited to perform at the Korea Culture & Travel Festival 2023 K-Travel Expo in Indonesia, followed by appearances on local television.

"Still On My Way" will be the most listener-friendly song they've made yet, but still with the energy and vigor it has shown since day one, according to the members.


An image of boy band Trendz's third single "Still On My Way" [GLOBAL H MEDIA]

"One of the things we've been emphasizing since our debut is our performative side, and I think people have very gratefully seen that," Havit said. "We've shot a lot of videos, with other artists too, and we've been hearing that we really are good dancers."

Everyone always practices until it's perfect and remembers to warm up before and after each stage so as not to hurt themselves, but, most of all, they know when to take a break, the members said.

"As soon as we feel like something is off, we take a rest," Yechan said. "Each of us has our own way of taking care of ourselves, which we really do."


Boy band Trendz sits down for an interview with the Korea JoongAng Daily at the JTBC headquarters building in Sangam-dong, western Seoul, on Aug. 23, prior to the release of the band's third single "Still On My Way" on Wednesday at noon. [LEE JI-MIN]

Another method of keeping themselves "still on their way" is by keeping a sound mind for their sound body.

As much as there are fans who love the artists unconditionally, there are also people who wish to tear down the stars with hate-filled words. K-pop has been filled with online harassment scandals that agonize celebrities, but Trendz members say they each have their different methods of dealing with antagonists.

"I look them up and then I get motivated — to prove them wrong," Havit said. Havit had been garnering fans even before his official debut as a contestant on the JTBC audition show "Mix Nine" (2017-18).

"On 'Mix Nine,' some people said they didn't like me because I was too skinny. I honestly didn't work out much, and I didn't like to, but those comments made me want to change. They made me try even harder, and now I love working out at the gym."

"I like to think that those comments were posted because I did good," ra.L said, smiling. "I try to stay as positive as I can. I heal myself so I don't get hurt at all."


Boy band Trendz [GLOBAL H MEDIA]

While member Yechan also took negative comments as proof of Trendz's hard work, other members choose to deliberately keep themselves out of harm's way in the first place.

"I used to search for comments online, both with my name and the team's name, but I don't anymore," Hankook said.

"I'm not affected by such comments," Eunil said. "I know that I'm a good person and I always keep that in the back of my mind, so I'm O.K. no matter what I see."

Soon after the release of its new music, Trendz is set to start its first world tour with plans to perform in 20 countries around the world. Details including the exact venues and dates are still in talks, but the members are more than ready for the upcoming adventure.

"We were so touched by how so many Friendz, our fans, support us even when we're not in a particular project," ra.L said. "We want to return all that love through our performances. We're practicing for hours every day so that we can show our fans everything we've prepared for them."


Boy band Trendz [GLOBAL H MEDIA]

The band has performed in Indonesia, Kazakhstan and Japan in the past, but Trendz is fully aware of how important a global tour is for an up-and-coming act.

"There's not much chance for global fans to see us in person," Leon said. "So for us to travel overseas is not only a precious opportunity for us, but it will also be an unforgettable experience for the fans. We have a full sense of responsibility for that."

In addition to the dance practices, members are taking the time to study foreign languages such as English and Japanese, so as to communicate better with their international fans. Members ra.L and Eunil are especially committed, and they speak to each other in English whenever they can.

"We're doing it to bring down the language barrier, and it's actually more helpful than I thought it would be," ra.L said. "We mostly talk about music, and it's quite fun."


Boy band Trendz [GLOBAL H MEDIA]

With "Still On My Way," Trendz hopes to make itself more known to the general public to the point that people could recognize them on the streets. But more than fame, members hope to stay together and return the love they've received from their loyal fans.

"We want to make our Friendz proud," Havit said.

"Our fan club Friendz isn't just called 'friends' in name — they're our true friends," ra.L said. "We want to become closer to them with all our upcoming music, not just this one. And even after a long time in the future, we hope they won't regret having liked us."

BY YOON SO-YEON [yoon.soyeon@joongang.co.kr]