Key to success in the K-pop industry: Is it the artist or the agency?
Fifty Fifty performs its viral hit "Cupid" during a press conference held on April 13 at the Ilchi Art Hall in southern Seoul. [YONHAP]

As K-pop continues to expand its influence around the world, the Korea JoongAng Daily would like to introduce Celeb Confirmed, a new entertainment news and community service to deliver K-culture news to readers around the world. This two-part series will decipher the unique relationship between an agency and its artists to better understand the special dynamics that are driving the growing force.

Which comes first in K-pop, the idol or the agency?

With the rookie girl group Fifty Fifty receiving extra attention not only for becoming the fastest K-pop group to land on the Billboard Hot 100 singles chart with "Cupid," but also for the fact that it was grown by a small agency unbeknownst to many, the discussion is growing over who has the bigger say in making K-pop, K-pop.

To some, the conundrum is equally as deep and complex as the philosophical "the chicken or the egg" question, spanning the three-decade history of K-pop — an industry where the success of a group often matches the size of its agency.


Fifty Fifty, for example, only sold 1,500 copies of its debut EP "The Fifty" (2022) in the first week of its release despite the positive reviews it got from both fans and critics. Fifty Fifty is managed by Attrakt, an agency owned by StarCrew Ent, which manages only four singers as of 2023.

On the other hand, NMIXX recorded the highest debut album sales by a K-pop girl group with 227,399 copies of its single "Ad Mare" (2022) within just a week of its release, despite mixed reviews from the public. The band landed on the Billboard 200 albums chart with its latest EP "expérgo" but not on the Hot 100 chart, which is decidedly more difficult to enter.

In fact, JYP Entertainment released a "Blind Package" of NMIXX's debut single in July 2021, months ahead of the group's actual debut, and received 60,000 reservations within just 10 days.



JYP Entertainment released a "Blind Package" of NMIXX's debut single in July 2021, months ahead of the group's actual debut, and saw 60,000 copies of reservations without having revealed any information about the group. [JYP ENTERTAINMENT]
Girl group NMIXX performs its new music in a showcase held on March 20 at the Yes24 Live Hall music venue. [YONHAP]

By then, no information other than the fact that it will be a new girl group by JYP Entertainment had been revealed, but people still willingly spent money — all because they had faith in the label's ability to put together a high-quality girl group.


The success of Fifty Fifty marked the beginning of a new generation of K-pop in which the conventional rules of the market — the bigger the agency, the higher the chance of a K-pop group being a success — are eroding due to the shifting media landscape. Smaller companies are finding ways to climb to the top while single artists are coming forward as individuals, breaking free of the agency nametags that always accompanied them in the past.


Contrary to American pop stars, or stars of any country even, for whom it's common for people to be completely oblivious as to which agency they belong, a K-pop group never comes without the branding of its agency, especially if it's from one of the larger companies — think Korea Exchange-listed companies like HYBE, SM Entertainment, YG Entertainment, JYP Entertainment, FNC Entertainment, Cube Entertainment and RBW, or agencies like Starship Entertainment or EDAM Entertainment, which are owned by tech giant Kakao.

This is so much the case that experts often compare K-pop to the world of automobiles, where names of cars are always accompanied by the names of their manufacturers, like Ford, Lamborghini, Mercedes-Benz or Hyundai, rather than by the model alone.



HYBE headquarters in Yongsan District, central Seoul [HYBE]
SM Entertainment headquarters in Seongsu-dong, eastern Seoul [SM ENTERTAINMENT]

The teacher, parent and agent

K-pop agencies wield a surprisingly dominant hold over their idols, because in Korea, they're more than just agencies — they're both the teacher and parent, and that makes them inseparable from their stars.

It starts with the huge amount of investment needed to make a group.

During the three, five or however many years it takes for an agency to train and roll out a band, agencies spend millions, if not billions, of won to take care of the teenagers so they can become "idols," as the occupation is referred to in K-pop.

The so-called dorms that trainees live in are houses rented out by agencies, while the food they eat and the lessons they take for vocals and dance are also covered by the company. The cost of cosmetic procedures, not necessarily limited to but including plastic surgery, also take up a huge portion of the deal.

There is no exact data on the number of these prices, neither do agencies disclose the data publicly, but the ballpark figure of producing a girl group is said to be at least 300 million won ($224,000) per member. Girl group Loona, for instance, is said to have cost its agency 10 billion won to produce, including marketing and promotion.

SM Entertainment even opened up a K-pop training center named SM Universe in April last year, offering a three-year curriculum like a regular middle and high school, but teaches singing, dancing, modeling, acting and music composing to students who want to become stars.

The process is so extensive that students who enroll are required to drop out of their original schools and instead study for school equivalency credentials.


Boy band BTS receives an award for its "Wings" (2016) album at the 31st Golden Disc Awards in January 2017. [JOONGANG ILBO]
Girl group Blackpink receives the Rookie of the Year award at the 31st Golden Disc Awards in January 2017. [JOONGANG ILBO]

All seven members of K-pop's biggest act, BTS, for example, trained under its agency, previously known as Big Hit Entertainment but now known as HYBE, for three years on average before their big debut in 2013. Members of girl group Blackpink trained for five years on average before their debut in 2016.

So when an idol debuts, the agency needs to start covering the already-spent expenses with the newly-generated revenue from its stars.

Contrary to Western pop stars, who oftentimes get picked up after they've fully proven their talents and thus require less dollars to nurture, Korean idols don't get paid until they make up for the millions of won they burned through before actually debuting.

Idols frequently reminisce on years of not making any money until they've paid off all their "debt."

Singer Yuju, a member of girl group GFriend, has said she got her first paycheck two years after her debut, while former Momoland member Yeonwoo said it took her three years to get paid. Monster rookie girl group NewJeans, on the other hand, got paid after just two months — a major indicator of success in K-pop.


Students practice their runway walking at SM Universe. [KIM KYUNG-ROK]

Essentially an incubator, it is hard to rule out the role of an agency in the success of a star, if not just financially, but also mentally. The sort of teacher-student relationship becomes normal among constituents, like how all SM Entertainment artists refer to founder and former chief producer Lee Soo-man as "Teacher Lee Soo-man."

"In the very beginning of K-pop, the founders of major agencies themselves were celebrities — just take the names of the companies," said music critic Park Joo-noo, referring to Lee Soo-man's SM Entertainment, Park Jin-young's JYP Entertainment and Yang Hyun-suk's YG Entertainment. YG is short for Yang Goon, with goon in Korean meaning young mister.

"It was natural that companies started by revolving around these founders, especially because their names carried power and influence. That structure stuck, and although there have been definite risks and shortcomings, they had their perks, too," Park said.

Battling in a small arena

The catch is that agencies don't ease their grip on idols after they debut. In fact, the tough micro-managing only intensifies, because the small domestic market requires extensive marketing and image-making to beat competition.

"A major difference also comes from the fact that the Korean music market wasn't big enough for companies to depend on just sales from music, while those in bigger countries could," music critic Cha Woo-jin said.

"The North American market is so large that companies can make a profit without having to put on extraordinary efforts to sell anything more than albums or concerts. But in Korea, album and concert ticket sales alone weren't enough to make up for the investment that companies put in, which meant that agencies had to get involved a lot more to generate other means of cash flow."

According to a report by the International Federation of the Phonographic Industry (IFPI), the U.S. music market exceeded $10 billion for the first time in 2022, the largest in the world, as opposed to Korea's market, which ranks sixth. Specific numbers were not given.

To make up for the limited consumer base, the agency takes the initiative to specifically target certain consumer groups and has their artists act out the strategies, rather than letting the artists focus on their music or carry out promotional events on their own.


Boy band BTS poses for photos ahead of a press conference held on May 29, 2017, for receiving the Top Social Artist award at the 2017 Billboard Music Awards. [YONHAP]

This means that in K-pop, the agency does it all: It produces and manages a group, publishes and markets the group's music, promotes and markets the group and acts as their spokesperson, making it impossible to separate a star from its agency, especially very early on in that person's career.

Stars are trained to convey a certain image on stage and continue that repertoire on other televised programs so that fans grow fond of the artist's personality and spend money to get closer to them in any way.

Fan club memberships and tickets to meet and greet events are such examples.

Agencies offer special benefits to fan club members to encourage them to join, which again builds a sense of unity and encourages fans' affection. The chance for a slot in the "lucky draw" to a meet and greet is counted by the number of albums a person buys, rocketing the number of an album copy that fans would buy from one to over a hundred.

Albums also come with random photo cards of certain members, leading fans to buy more copies to get the cards of their favorite member.


So, the agency comes first?

No, and this is where the dilemma starts.

What sets K-pop apart from any other manufacturing business in the world is that the "products" are people — individual human beings with their own minds and creativity.

Even though it may be the agency that puts together the band and comes up with details related to how they're first presented to the public, the rest depends much on how the individuals actually pull it off.

Stars who turn out to be much more talented and sincere in their music than first anticipated can lead to the success of an entire band and tons of dollars for its agency, again exemplified by BTS.


Executives of Big Hit Entertainment, now known as HYBE, pose for photos at the Korea Exchange (KRX) headquarters in Yeouido, western Seoul, on Oct. 15, 2020, the day the company went public on the KRX after seeing massive success with its boy band BT

There was a time when HYBE, back in its Big Hit Entertainment days, was also considered a small agency.

In fact, in 2010, before BTS started marking its presence on Billboard in 2016, Big Hit Entertainment had only 10 employees in the company, excluding trainees, and BTS needed to wait until Synnara Record closed at 8 p.m. so that it could meet with some 20 fans for a meet and greet session — all because they couldn't afford to rent out a proper venue.

It was October 2017 when BTS's "DNA" sat at No. 85 of the Billboard Hot 100 singles chart for the first time in its career. The rest is history: BTS topped the chart for the first time in September 2020 with "Dynamite," then again in December with "Life Goes on," followed by "Butter" and "Permission to Dance" in 2021.

BTS made so much money in the first half of 2020 that it took up 87.7 percent of Big Hit Entertainment's revenue, helping the company acquire more companies and go public on the Korea Exchange on Oct. 15 that year. But two years later in 2022, the announcement of BTS ceasing group activities brought down HYBE's stock prices by 25 percent the next day, a blow from which it took eight months to recover.

No matter how well an agency plans its moves, the only certainty is that nothing will go as planned — and that's the beauty of the industry. It's not a matter of what method is right or wrong, but the pros and cons of how each system functions, according to pop culture critic Jeong Deok-hyun.

"It's truly a case of the chicken or the egg when discussing this issue in K-pop," he said.

"No party can exist without the other, but, realistically, the agency's power in all this is especially indispensable. The artists' abilities are very important, but much can depend on how an agency unfolds that in the business perspective. The K-pop market was designed so that experts from all different fields come together to create a single result, and that's just not possible by one individual."


Zico of boy band Block B was hugely successful with his "Any Song" TikTok challenge in 2020. [SCREEN CAPTURE]
Fifty Fifty performs its viral hit "Cupid" during a press conference held on April 13 at the Ilchi Art Hall in southern Seoul. [NEWS1]

Eggs start hatching

A changing media environment brought yet another variant to the equation of a K-pop group's success: online platforms.

Contrary to the past, when small companies struggled to land their bands on major television shows, meaning less coverage and exposure to the press, these bands can now go straight to the cyberworld and start their own YouTube series or TikTok challenges in the hopes that it will go viral.

Smaller companies still do inevitably mean smaller budgets for fancier shows, but short-form video services have reduced the need for major promotion costs.

Fifty Fifty's "Cupid" is a prime example. A snippet of its sped-up English version, called the "Twin Ver.," became a beloved audio source for TikTok challenges, even earning it the moniker "the best pre-chorus of 2023" and leading to the six-month-old quartet becoming the hottest act in town.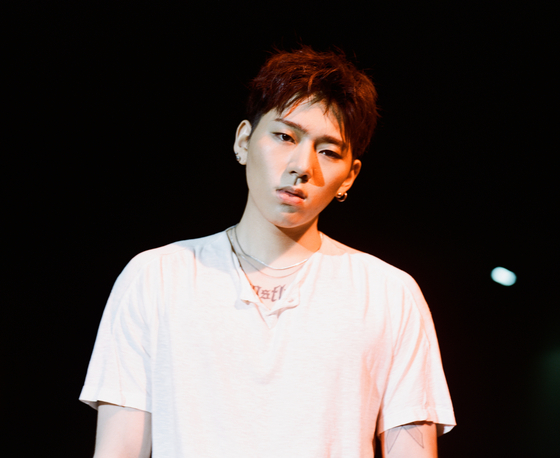 Rapper and producer Zico founded his own agency KOZ Entertainment in November 2018. [KOZ ENTERTAINMENT]

TikTok had also helped rapper and producer ZICO storm Korean music charts in 2020 with his "Any Song" (2020) challenge, leading to his self-founded agency KOZ Entertainment being acquired by HYBE in November that year. The agency plans to roll out a new boy band on May 30.

Artists are increasingly flaunting their talents as more than mere idols and taking more creative initiative with their work, while diversifying media outlets act as mini stages for them to flaunt their talent to the larger audience.

Each member of BTS, leader and producer of girl group (G)I-DLE, the 3RACHA producer unit of boy band Stray Kids, Seventeen, Pentagon — the list of artists creating their own music and work goes on and on.

"At the end of the day, it has to come down to the artist," said music critic Cha.

"Take cars, for example: It's the people at Ferrari that make Ferrari what it is today, not the brand itself. Music comes down to the people who make the music. Consumers want to see unique, attractive characters that have more to tell than just the one hit song. It's the culture that forms around the song and the people, and that's not something that can be made by a company."

See more Korean entertainment stories here on Celeb Confirmed.

BY YOON SO-YEON [yoon.soyeon@joongang.co.kr]