Korean companies keen on unique skills of foreign workers
Participants listen to Nidhi Agrawal speak [PARK SANG-MOON]

"Companies hire foreigners because we are different and have new ideas," said Nidhi Agrawal, an artist signed under Wave Entertainment. "If I tried to be like one of the Koreans, why would they find the value in hiring me?"

"So being myself, being open and bringing a bit of the 'Indianess' was helpful for my career."

Agrawal started her career in Korea by working for a startup company, but now focuses on her career as a TV personality and YouTuber.

Just like how Agrawal landed a career in Korea, over 100 international students also interested in working in the entertainment industry gathered at the JoongAng Ilbo building on Friday for the second K-campus Networking Event.

K-campus, launched in February, is a brand by the Korea JoongAng Daily that creates content helping international students navigate their life in Korea.


Nidhi Agrawal speaks at the K-campus Networking Event on Friday at the JoongAng Ilbo building [PARK SANG-MOON]

During the event on Friday, Kim Hyeon-seok, head of YG Entertainment's HR team, also attended to explain how foreigners can land a job in Korea's entertainment industry.

With K-pop getting global recognition, many entertainment companies are looking to hire international talent that can help them target fans abroad. YG Entertainment is also one of them, having foreign employees in many departments.

"Companies look for not only a good attitude from new recruits in entry-level positions, but also creative ideas," said Kim.

"Companies want the new and innovative ideas that only new recruits can have and that's why for the entertainment industry, jobs in production tend to have a lot of entry-level job openings."

Kim added it is important to keep an eye on specific companies that job seekers want to join, as entertainment companies tend to open positions out of the blue.

"Most entertainment companies in Korea don't do regular hirings like conglomerates and their big-scale annual hirings," said Kim.

"A lot of them will open positions only when there is the need, because the industry changes very fast and the skillsets the company needs constantly change too."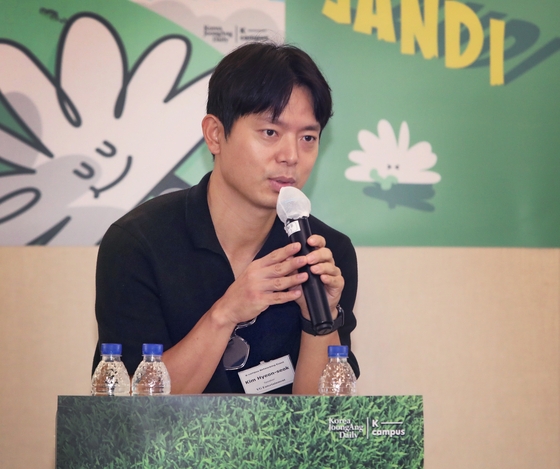 Kim Hyeon-seok, head of YG Entertainment's HR team, speaks at the K-campus Networking Event at the JoongAng Ilbo building on Friday. [PARK SANG-MOON]

Korean proficiency was one of the frequently asked questions by students attending the event, with many wondering how fluent they need to be.

"Working in Korea, the majority of the people you will work with are Koreans, so Korean skills are crucial to communicate with them," said Kim. "You will need at least basic Korean to get a job in an entertainment company here."

"Of course, entertainment companies with overseas branches will use English in those branches, but Korean will be the main language that's used in Korea."

But Korean isn't the only skillset international job seekers need to have.

With many foreigners previously studying in Korea and already graduating as fluent speakers, candidates need additional factors that make them stand out.

"Korea has around 2 million foreigners, and even if 1 percent can talk in Korean, you have big competition and many of them want to be on TV and YouTube," said Agrawal. "So in this competition, if you want to be the one that stands out you need to give them something special."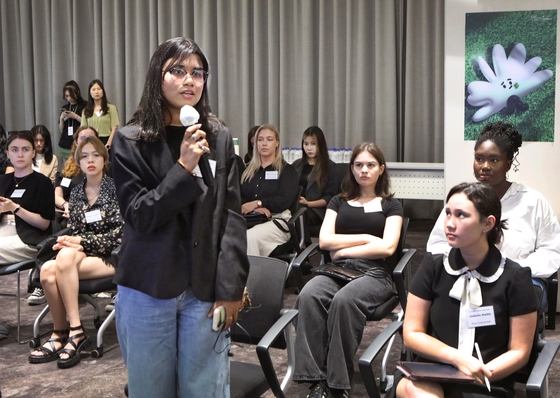 A student asks a question after listening to the speakers [PARK SANG-MOON]

Agrawal also introduced opportunities for foreigners to work as artists in the entertainment industry. Wave Entertainment, which she is currently under, is a company founded by Tyler Rasch and Julian Quintart. Apart from the majority of the signed artists being non-Koreans — six out of the total seven — the entertainment agency aims to achieve transparency.

"The entertainment industry in Korea is mostly based on communication," said Agrawal. "If somebody has a job for you, they call the manager, but we wanted to have more transparency."

Rather than agencies deciding what shows the artists go on, all bookings for Wave Entertainment are made through Wave Entertainment's website. Artists are the ones who get to choose which shows they want to star in and which they don't, with details such as fees all made open.

"We are currently trying to make the booking system a bit better right now because it's a new system that we never had in the industry," said Agrawal. "That's why we thought we might need more time before we accept new artists, and we will be able to start accepting artists here and there maybe by the end of the year."

BY LEE TAE-HEE [lee.taehee2@joongang.co.kr]