Lead actors of 'A Time Called You' tell how they dealt with the pressure
Actors Jeon Yeo-been, left, and Kang Hoon play high schoolers in ″A Time Called You,″ a Netflix remake of the hit Taiwanese drama ″Someday or One Day″ [NETFLIX]

Playing an important role in a remake of a film or a TV series always comes with a fair share of pressure, especially when the original was loved so much by so many people. When the word spread that the hit Taiwanese drama series "Someday or One Day" (2019) was getting a Korean remake, all eyes were on who would be cast for the lead roles.

Netflix is in charge of the remake, titled "A Time Called You," and announced in March last year that actors Jeon Yeo-bin, Kang Hoon and Ahn Hyo-seop would take the lead roles.

The actors said they immediately felt an immense weight on their shoulders, but as they rehearsed and worked together, they say they were able to focus on making the remake worth watching due to its own merits.


Main poster for ″A Time Called You″ [NETFLIX]

"I think you could compare remaking this story to coloring in a coloring book," Jeon said during an interview with reporters at a cafe in Jung District, central Seoul, on Tuesday. "There is an outline of a drawing in a coloring book, but the end result differs based on how the person coloring the drawing chooses to fill in the empty spaces. The director of 'A Time Called You' also told the cast that we should honor the original but try to make it something of our own."



"I tried to not entertain the pressure of remaking such a beloved series as 'Someday or One Day,'" Kang said in a separate interview with reporters on Wednesday. "I recognized that this story is based on the original, but it's also a special story on its own, so I tried to focus on that."



Actor Jeon Yeo-been [NETFLIX]

"A Time Called You" is about a woman whose boyfriend has passed away and how she travels back in time and meets a boy who has an uncanny resemblance to her old boyfriend. The premise is the same as the original Taiwanese series, although certain details of the two series — and the endings — differ. Jeon plays both the woman and the girl whose body she ends up in after traveling back in time. Jeon said that while it was hard playing two different characters in one series, she took on the challenge with a sense of responsibility.


"I played both characters thinking that I should really get this right," Jeon said. "To do that, I tried to be very faithful to the script. I am the kind of actor who stays true to the script whatever happens, and there is a rhythm and energy that you can feel from the script which allows you to imagine the scenes in your head. Jun-hee and Min-ju, the two characters I play, each have such a distinctive manner and voice that it was hard to portray them both well, but I was able to manage it."



Actor Kang Hoon [NETFLIX]

Kang, who plays In-kyu, the best friend of the boy who Jeon's character meets when she travels back in time and who has a crush on her, said that watching Jeon and fellow cast member Ahn Hyo-seop playing two characters on set was an experience from which he could learn a lot as an actor.


"I felt that Jeon and Ahn both did great jobs in acting two parts," Kang said. "My character In-kyu was more straightforward, and it wasn't as difficult to play him. I think this was also because my real self and In-kyu are a lot alike — we both seem not so outgoing and timid but feel a lot of responsibility and look out for others."



Kang Hoon plays In-kyu, one of the main characters in ″A Time Called You″ [NETFLIX]

Jeon was a fan of the original Taiwanese series even before being cast for the remake, while Kang had not seen the original, according to the actors.


"'Someday or One Day' is such a classic and a beloved series that I personally also love," Jeon said. "But the director asked the others to not watch the original, from what I recall."


"I plan on watching the original today, after these interviews are over," Kang said with a laugh.


Regarding the message that "A Time Called You" is meant to deliver to audiences, both Jeon and Kang said that it was about love and the lengths to which people will go for their loved ones.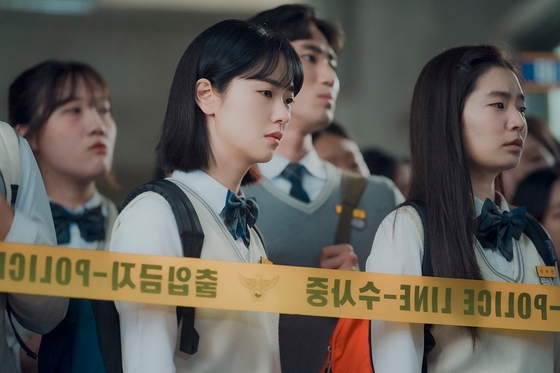 A scene from ″A Time Called You″ [NETFLIX]

"In the end, it's all about love," Jeon said. "In 'A Time Called You,' it is romantic love between people that we deal with, but it could really be love for anything. We all come across a moment when we want to protect and cherish something, whether it be someone you love romantically or when you are working on something you believe in very much, or when you are dedicated to a cause. I hope people will be reminded of those times and the things and people that they love when watching 'A Time Called You.'"


"If I was in In-kyu's situation, being caught between your best friend and a girl you love, I would choose love," Kang said. "I think love has more weight than other things, including friendship. I can always make new friends, and I don't think my friends now would think badly of me for choosing love."

BY LIM JEONG-WON [lim.jeongwon@joongang.co.kr]