Lee Sung-min hopes for greater success in 'Shadow Detective'
Lee Sung-min in a scene of the Disney+ original drama series "Shadow Detective" Season 2 [WALT DISNEY COMPANY KOREA]

Success is immeasurable for veteran actor Lee Sung-min, 54, whose latest work, "Shadow Detective" Season 2, wrapped up last Wednesday with favorable reviews once again, after the prequel last year.


"I don't want to brag, but I did hear it being described as well-made," Lee said with a smile at a local press interview on Monday in Jongno District, central Seoul. "A lot of the credit goes to our director and the staff who I feel edited the show to be very suspenseful and captivating in every single moment."

Season 2 of the Disney+ original drama series "Shadow Detective" continues the story of Lee's Taek-rok, a detective nearing his retirement, who searches for the higher force behind certain killings and his anonymous blackmailer from the first season of the series.


Actor Lee Sung-min [WALT DISNEY COMPANY KOREA]

It has a gripping plot with smartly constructed twists and turns and outstanding performances by not only Lee but also other actors like Kyung Soo-jin, Lee Hak-joo and Kim Shin-rok — all for which the show has been so highly regarded since Season 1. The wider public's attention, however, is seemingly lagging.


Especially compared to his recent success in the JTBC business drama "Reborn Rich," which was the second-most watched show on the cable channel, Lee admitted that he was feeling the disparity in public popularity this time around and expressed slight remorse for the comparatively low number of subscribers on Disney+.

"Those who've watched the show have complimented it […] But I don't know if it is gaining traction, and maybe there is a limit that no one can do anything about," he said.

Disney+ is currently ranked fifth in the Korean streaming service industry with 2.16 million users as of January this year, according to Mobile Index. This is only one-tenth of the industry's top player, Netflix, which has 12.57 million users.



Lee Sung-min in a scene of the Disney+ original drama series "Shadow Detective" Season 2 [WALT DISNEY COMPANY KOREA]

"But I believe this is only the start of 'Shadow Detective.'" Lee said. "I've learned from Season 1 that on these online platforms, like Disney+, many opt to watch the show after all the episodes have been released to avoid having to tediously wait for new episodes to come out every week.


"I'm optimistic that more people will see the unique charms of 'Shadow Detective.'"

What sets "Shadow Detective" apart from many other mystery-thrillers is its genre-defying style: Not only is the series focused on solving complex cases, but it also equally explores the very emotional coming-of-age story of detective Taek-rok.

"This humanism aspect of the show was what drew me in in the first place," Lee said. "In retrospect, I think this show will be particularly memorable for me for creating a type of detective on screen that has never before been seen on local media."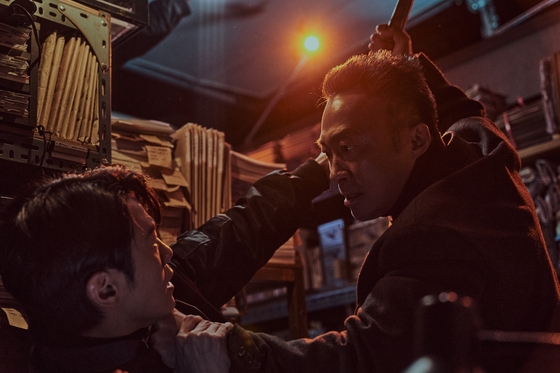 Lee Sung-min, right, in a scene of the Disney+ original drama series "Shadow Detective" Season 2 [WALT DISNEY COMPANY KOREA]

Nabbing compelling characters and being part of quality works is what Lee strives for as an actor today, already in the 23rd year of his professional acting career on screen.

"I really made my mark on the public with [MBC drama series] 'Golden Time' in 2012, and back then I remember being over the moon and feeling like my dream as an actor had come true," he said. "Then, I acted in drama 'Misaeng' [in 2014] and movie 'The Spy Gone North' [in 2018], after which I felt like I had accomplished absolutely everything that I ever wanted when I was a rookie actor. So, while people may think that I take great satisfaction in becoming the talk of the town, like during the air of 'Reborn Rich,' I really don't care too much for those kinds of reactions nowadays.

"Besides, those sorts of quick fame spurts die off quickly anyways!"


A scene from the Disney+ original drama series "Shadow Detective" Season 2 [WALT DISNEY COMPANY KOREA]

There has been no official talk of a "Shadow Detective 3," according to Lee.

"But I would love to star in it if anything changes!" he said, citing the great work relationship with the director and the staff as well as the close camaraderie that formed among the actors.

Lee debuted in 1987 as a theater actor and subsequently forayed into motion pictures in 2000. He is best known for works such as the 2012 MBC drama "Golden Time," the 2014 tvN drama "Misaeng" and the 2022 JTBC drama "Reborn Rich."

BY LEE JIAN [lee.jian@joongang.co.kr]