Screenwriter Jeong Seo-kyeong puts her own spin on classic 'Little Women'
Screenwriter Jeong Seo-kyeong, right, talks about her two recent projects — the film "Decision to Leave" and tvN series "Little Women" — in a forum titled "Content Insight 2022" in Dongdaemun District, eastern Seoul, on Thursday. [KOCCA]

Jeong Seo-kyeong, best known for having co-written the script for five of director Park Chan-wook's films, from "Sympathy from Lady Vengeance" (2005) to the most recent "Decision to Leave" (2022), is now seeing success with drama series "Little Women" (2022), inspired by the classic novel by the American author Louisa May Alcott.

The tvN series "Little Women," unlike the original which centered around the daily lives of four sisters, is a dark, stormy tale which involves three sisters from a poor household, a slush fund of 70 billion won ($50 billion), and one of the most powerful families in the country, who, with all the right connections and money, are able to get their hands on whatever they want — even at the cost of a life.

The series, which wrapped up on Oct. 3 with a high viewership rate of 11.1 percent, ranked No. 3 on Netflix's weekly Global Top 10 chart for the non-English TV category from Oct. 17 to 23.


TvN drama series "Little Women" (2022) revolves around three sisters from a poor household attempting to expose the corrupted ways of one of the most powerful families in the country. Kim Go-eun, Nam Ji-hyun and Park Ji-hu portray the three sisters

This is Jeong's second drama series after tvN's "Mother" (2018), but it was one of the hardest to write, according to the writer, who commented that she "had to give all [she] had" to craft a scale of a story as big as her recent project, at the forum titled "Content Insight 2022" on Thursday in Dongdaemun District, eastern Seoul. The event was organized by the Korea Creative Content Agency (Kocca) and the Ministry of Culture, Sports, and Tourism to invite experts to share their insight and experience on the local content industry.

"Some of my favorite scenes from the novel is when Jo cuts off her hair and sells it to provide money, or when Amy burns Jo's manuscript," Jeong said. "All of those scenes, little by little, defy the rules or moral conducts they were taught and learned to follow. The scene that I like the best is when Jo seeks advice from her mother about her 'bad personality.' […] I loved that scene because it felt to me that it was okay not to be good. In my memory, the March sisters were not always 'good' — they had their squabbles and rule-breaking moments, but when I came across the story again, I felt that they were too good. So I wanted to write a story about sisters who are really bad."

Jeong admits that there are similarities between two female protagonists she has written — Seo-rae, portrayed by Tang Wei in "Decision to Leave," and the villainess Won Sang-ah, portrayed by Uhm Ji-won in "Little Women."


"Decision to Leave" (2022) starring Tang Wei and Park Hae-il, is the fifth collaboration between Park and Jeong, for which Park won Best Director at this year's Cannes. [CJ ENM]

"I hadn't realized it before, but Uhm messaged me one day saying that she came to understand her character more through Seo-rae after watching 'Decision to Leave,'" Jeong said. "They share lots of similarities. They had both killed their mothers. From a narrative point of view, they both hide their intentions extremely well and reveal it in the most important part of the narrative, like a flasher."

Another important protagonist who leads the narrative in the series is the second sister, portrayed by Nam Ji-hyun. The character that Jeong and Nam painted was a determined reporter dead-set on revealing the corrupted ways of a politician and his wife, portrayed by Um Ki-joon and Uhm Ji-won, through what she's best at — investigation and reporting, grounded by facts.

"The original novel already talks about women's desire to work as a member of society," Jeong said. "So I didn't want to repeat that. What I became curious about was how the records were different from the viewpoint of men and women. For instance, how would history be written differently if it was told by women? […] I felt that Nam's character was up for the job — she had the potential to record and report this massive story."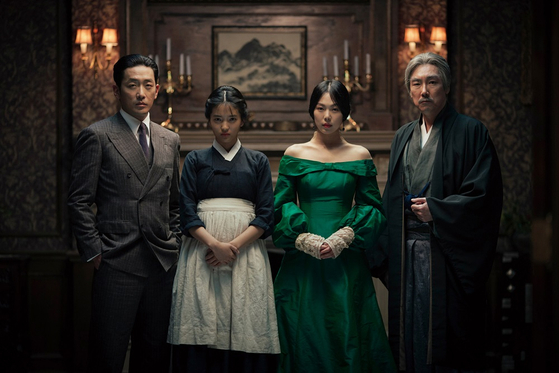 "The Handmaiden" (2016) starring Ha Jung-woo, Kim Tae-ri, Kim Min-hee and Cho Jin-woong is inspired by the 2002 novel "Fingersmith" by Sarah Waters. The film is director Park Chan-wook's and Jeong Seo-kyeong's fourth film together. The film was invi

Jeong and Park's partnership over the course of some 18 years takes up an enormous proportion of Jeong's career. Since they first met through "Sympathy from Lady Vengeance" in 2005, all of the scripts for Park's Korean feature films were crafted together with Jeong. With 2009 film "Thirst," Park won the Jury Prize, and for his most recent "Decision to Leave," Park took home Best Director at this year's Cannes.

A famous quote in which Park describes his partnership with Jeong is well-known within the local content industry today, which Park wrote at the introduction of the script book for "Sympathy from Lady Vengeance."

The quote goes: "I never imagined my entire film career would be defined by before and after I met Jeong. If such factors such as femininity, childlike innocence, fairy tale beauty, optimism, excitement, gratefulness, or daydreams are in my film, they are all derived from Jeong."

When asked how her career changed before and after she met Park, Jeong initially replied that the question "doesn't make sense" to her.


"Thirst" (2009), starring Song Kang-ho and Kim Ok-vin, is Park's and Jeong's third film together. The film won the Jury Prize at the 2009 Cannes Film Festival. [CJ ENM]

"I did not exist as a scriptwriter before I met Park," she said. "I never properly learned scriptwriting when I was in school. If there is a Park Chan-wook Institution of Film, then I exist as a student, which, technically, I still believe that I am. He's not really the kind to teach people, but when I go up to him with a script and ask him to take a look at it, he looks at it. I've learned even the most intricate of things about writing from him, such as how he treats other people around him or even my habit of writing without worrying too much about what's to come."

Jeong, who has continuously written stories centering around female protagonists since the beginning of her career, revealed at the forum that she has already begun work on another project. Although she did not reveal the specifics, she hinted that it may be about "older women," as her prior projects revolved around young women.

BY LEE JAE-LIM [lee.jaelim@joongang.co.kr]