[SHOWCASE] EVOLution, latest tripleS subunit, shows they're invincible in 'Mujuk'
tripleS's latest subunit group EVOlution performs its lead track ″Invincible″ during the subunit's debut showcase held at the Yes24 Hall in Gwangjin District, eastern Seoul, on Wednesday. [MODHAUS]

tripleS's newest subunit EVOLution is here, continuing the group's plan to come up with unlimited possibilities.


EVOLution, which dropped their debut EP "Mujuk" on Wednesday, is the fourth subunit under tripleS, a K-pop girl group designed to be constantly changing and evolving based on fan votes. While 16 members have been named so far, the group ultimately plans to have a total of 24 members.

EVOLution features eight members: Lee Jiwoo, Kim Chaeyeon, Kim Yooyeon, Kim Soomin, Kim Nakyoung, Kotone, Kwak Yeonji and Mayu.

Like other subunits of tripleS, the group continues to sing about self-love and a strong sense of self-confidence, but EVOLution is making themselves stand out with a much tougher take on the theme in their debut EP. "Mujuk," stylized as "⟡" means invincible in Korean.

"Both [subunits LOVElution and EVOLution] base their albums on the ideas of self-confidence and are full of self-love," Kim Chaeyeon of EVOLution said during a press showcase held Wednesday at the Yes24 Hall in Gwangjin District, western Seoul, ahead of the release of "Mujuk."


tripleS's latest subunit group EVOlution takes a picture during the subunit's debut showcase held at the Yes24 Hall in Gwangjin District, eastern Seoul, on Wednesday. [MODHAUS]

"But when LOVElution focuses on a bright and refreshing side of things, we are more like unbreakable diamonds: We are strong, sturdy and we are ready to break things!"

LOVElution is another subunit under tripleS that debuted in August, just before EVOLution.

EVOLution's debut EP features eight total tracks, including the lead track "Invincible" and "Rhodanthe," a coupling track that contrasts with the lead track. "Invincible" is a track that best describes the album's personality, according to the members. Another interesting track in the album is "Moto Princess," which had its lyrics written by Park Sohyun, tripleS's 14th member who was featured in the LOVElution subunit. She produced a track for her subunit's debut album as well.



tripleS's latest subunit group EVOlution performs its lead track ″Invincible″ during the subunit's debut showcase held at the Yes24 Hall in Gwangjin District, eastern Seoul, on Wednesday. [MODHAUS]

While tripleS depends heavily on fan votes when adding members to the group and each subunit, members said that the journey is meaningful in itself.

"There were no members that were not 'selected' by the fans," Kim Yooyeon said. "When fans vote for us, they are not voting for who gets to debut, but it's more of a question of which member fits which concept."

"So when LOVElution was in their promotion phase [earlier this year], EVOLution was preparing for our own debut album," Kim Chayeon said.

And due to the group's unique system that constantly allows its members to try out new concepts, members will be less disappointed even when they have to pull off a concept that they don't necessarily want to do.

"I want to go for a cute concept next time," the youngest member of the group, Kwak Yeonji, said. EVOLution was her first time taking part in tripleS's album promotions.

"But I wasn't envious of LOVElution [and its refreshing concept]. If I go for a [strong] concept like this, I know that next time I'll be able to go for a different concept."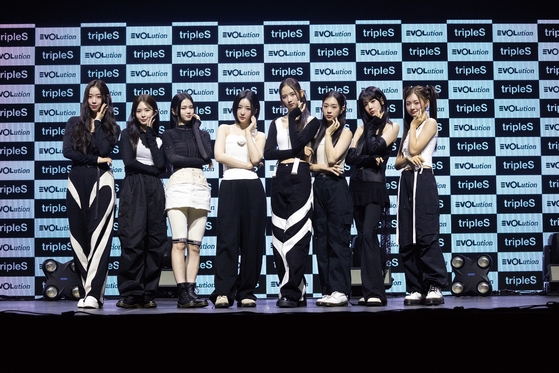 tripleS's latest subunit group EVOlution takes a picture during the subunit's debut showcase held at the Yes24 Hall in Gwangjin District, eastern Seoul, on Wednesday. [MODHAUS]

tripleS's next step has not yet been decided, but the subunit album's final track, "Enhanced Flower," is a hint at the group's future activities, according to the members.

"We are not sure whether the outro track [Enhanced Flower] is teasing EVOLution's future group activities; but the song acts as a sign from us to keep an eye on us," Lee Jiwoo said.

BY CHO YONG-JUN [cho.yongjun1@joongang.co.kr]