Director Jung Ji-woo offers insight into the complex characters of 'Somebody'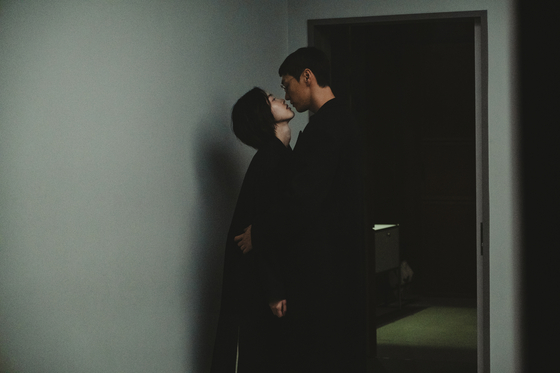 Seong Yun-O, right, portrayed by Kim Young-kwang, is a serial killer who murders women he meets through a dating app in Netflix series "Somebody." He falls in love with the software developer of Somebody, Kim Sum, portrayed by Kang Hae-lim. [NETFLIX

In the world of director Jung Ji-woo's first Netflix series "Somebody" (2022), even a serial killer longs to find love, feel connected and be understood by somebody.

Jung, known for his works such as "Happy End" (1999) and "Eungyo" (2012), is known to be upfront with his stark portrayals of his characters' desires and impulses, and also for discovering fresh faces, such as Kim Go-eun in his latter work.

"Somebody," which is Jung's first attempt at a drama series and his first Netflix project, features Kim Young-kwang as a successful architect and serial killer Seong Yun-o who kills women he meets through a dating app called "Somebody." Ironically, he becomes irresistibly drawn to Kim Sum, portrayed by Kang Hae-lim, one of the developer's of Somebody whom he meets through the app.

Kang, who debuted on the small screen through the 2017 web drama series "Idol Fever," was all but anonymous until she beat out some 600 hopefuls to be cast in the lead role of Kim Sum, a character as peculiar as her romantic interest Yun-o. Sum has Asperger syndrome and is something of a tech genius who develops the dating app Somebody, perhaps because of some of her own desires to connect with someone. Before she meets Yun-o, her only "true" friend is AI software called Someone, whom she freely confides in.


Kim Sum, who has Asperger syndrome, developed Somebody in hopes that she would find someone whom she could connect with. [NETFLIX]

Yun-o longs to find his true love whom he can connect to, and through merely chatting with Sum on Somebody, he believes that she is different from the victims he preys on.

At a local press event for "Somebody" earlier this month, Jung said that he hoped to create "an eccentric romantic thriller" with his latest series. The Korea JoongAng Daily spoke to Kim about his characters' mysterious motives and actions at recent press interviews at a cafe in Samcheong-dong, central Seoul.

The following are edited excerpts.


Q: Yun-o and Sum are not ordinary characters. What made you decide to portray your lead protagonists this way?
A: Jung: As I met a lot of people, I came to realize that it can be very difficult to form relationships and communicate with people, no matter how much of an extrovert one may be. Through Yun-o and Sum, I wanted to accentuate those shady sides that people secretly have or think of but they just don't talk about with one another, even if it's not necessarily related to crimes.


Sum and Yun-O from "Somebody" [NETFLIX]

How would you describe the relationship between Yun-o and Sum?
Jung: People say that nothing happens or goes according to their way — they wonder how others could distort their intentions or are hurt by other people's words. For Yun-o and Sum, their minds are synchronized. They exactly know and understand what the other is doing or thinking. It's like they are of one mind, which is what makes them irresistibly drawn to one another. It's not an ideal or positive relationship, but they've both fallen off balance because they met each other.

Kim: For Yun-o, Sum was his first, pure love — despite the fact that he's a serial killer. I believe that after his first kill, he realized that he's not ordinary, that he's crossed that line. So he was out and about formulating his own world [in the app] until he meets Sum, who seems to be perfect to him. So he grows attached to her, and he doesn't want to lose her, which is what inevitably draws him to his end. He seemed like a person whose world or dream was falling apart, which is why I agree [with Jung] when he said he wanted to portray an eccentric romance thriller.


Gi-eun, portrayed by Kim Su-yeon, is a cyber policewoman who is paralyzed from her waist down and a high school friend of Sum. She has an encounter with Yun-O through the dating app. [NETFLIX]

Let's talk about casting. Why did you choose Kim, whose past roles have been centered around romance, for the role of a serial killer? Why did you cast Kang out of some 600 other hopefuls?

Jung: Well, personally, I think Kim's physique is very surreal, it's extremely hard to find someone who looks like him. It was interesting that he portrayed such dependable and reliable characters in the past. When I offered the role to him, I could see that he had a thirst to show a new side of himself, and I'm so grateful for Kim to have been patient with rookie actors on the set.
As for Kang, I found her to be one of a kind. I mean, I didn't know what I was looking for when I first started to hold auditions for this role, and initially, I didn't quite know how to describe her [...] It may sound very vague, but she judges slowly. Some may say that it is a fault, but I think she was perfect for the role of Sum. The entire eight-episode series is slow-paced, because Sum does not easily form her own conclusions, and the conclusion that she's finally formed at the end did not come quickly.


There are brief hints here and there about Yun-o's story, but nothing too specific behind his motives or past that led him to become a serial killer. So what is his story?
Kim: He doesn't have one. If I put a label on why he commits murders or his motives behind his actions, I felt like I would be confining him to become a cliché character, to say that he grew up to be this kind of a person because of his trauma or childhood. If I just erase the question 'why' from his actions, then everything becomes easier, there's no need for explanation or justification. For Yun-o, his kills are his form of entertainment, a kind of game he plays.


Kim Young-kwang says that he intentionally did not put any narrative or motive behind his character's killings. [NETFLIX]

One of the lines which is repeated throughout the episodes is that for Sum, her creations Someone (AI) and Somebody (app), are her everything. Is that why Yun-o meets his tragic end in the last episode?
Jung: One of the things that I would often discuss with the camera director while we were filming this series was why would a character do that when they are well-aware that the damage would fall on them? Everyday in our lives, we meet countless people who consecutively do things that are harmful or could have some kind of negative impact. I think maybe that is somehow inscribed in our DNA to make us powerless or make us do things that may not always be the best for us? What is the source of the power which makes us able to control that?
Sum, on the other hand, was able to control what she did. For her, Someone and Somebody is really her everything. However, it wasn't easy for her [to choose her programs over Yun-o], which is why when she took the hoodie off at the end of Episode 8, showing a myriad of expressions exist on her face. She truly did like him.


BY LEE JAE-LIM [lee.jaelim@joongang.co.kr]