L'Oréal cashes in on Korean beauty
Actor Jun Ji-hyun, who played Cheon Song-yi in SBS's ″My Love from the Star″ (2013-14), wears Yves Saint Laurent Beauty's coral pink lipstick on the show, which became instantly popular among fans. [SCREEN CAPTURE]

When SBS's TV series "My Love from the Star" aired in 2013, it wasn't just the heart-fluttering romance between the characters played by actors Jun Ji-hyun and Kim Soo-hyun that made every K-drama fan around the world swoon.

The hit show instantly became a major icon of Hallyu, or the Korean wave, in areas such as original soundtracks, food, fashion and even makeup.

One craze was centered on the lipstick that Jun's character, Cheon Song-yi, frequently wore in her scenes. After Jun's makeup artist revealed that the coral pink lipstick was a product of Yves Saint Laurent (YSL) Beauty, it sold out immediately.

The lipstick became so popular among fans that it earned the nicknames "Cheon Song-yi lipstick" or "Jun Ji-hyun lipstick," and there were long lines of people in department stores, all waiting to grab one of their own.

"In the first quarter of 2014, YSL Beauty's lip product sales jumped eightfold in Korea," Jeon Ju-hyun, Chief Consumer Officer of L'Oréal Korea, told press on Friday. "'My Love from the Star' certainly became the stepping stone for YSL Beauty's significant growth that followed."

In the entire Asian region, lipstick sales for YSL Beauty increased by 150 percent in the same period.


From left: So Ji-hye, corporate affairs and engagement director at L'Oréal Korea; Fabrice Megarbane, the North Asia President at L'Oréal Group; and Samuel du Retail, the President of L'Oréal Korea at a press conference last Frida
The popularity of Korean content helped L'Oréal Korea become one of the largest beauty companies in the country, with the North Asian region now taking up roughly a third of L'Oréal Group's global market share, according to Fabrice Megarbane, the North Asian President at L'Oréal Group.

Currently, L'Oréal Group houses 36 cosmetics brands, including YSL Beauty, Giorgio Armani Beauty, La Roche-Posay, Kiehl's, Biotherme and 3CE.

This year L'Oréal Korea is celebrating its 30th anniversary, and at a press conference at its headquarters in southern Seoul, the company shared its thoughts on how Korea became an important global target market.

"KO-creation," the name of the group's newest strategy for the future, puts emphasis on launching more products that are inspired by Korean trends, expanding memorandums-of-understanding with other biotechnology businesses and collaborating with startups to develop more beauty tech devices.

"We no longer talk about bringing L'Oréal to Korea; we now want to bring the best of Korea to the rest of the world," Samuel du Retail, the President of L'Oréal Korea, said. "Korea has the perfect beauty ecosystem, and it's an incredible hub for generating beauty products."

Korean beauty trends over the years, such as the dewy skin look of the 2010s, served as a good reference for new products, Chief Consumer Officer Jeon said. It was around this time that brands like Lancome and YSL Beauty first released BB creams and cushion foundations, which were initially popular in Korea.

"Korea has always offered the latest insights on consumer trends, digital innovations and biotechnology," Megarbane added.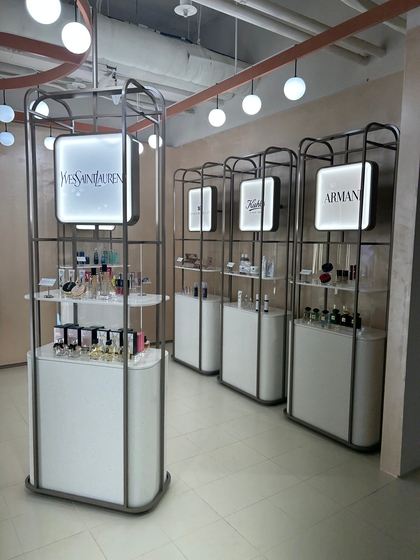 L'Oréal Korea headquarters in Gangnam District, southern Seoul. Employees are able to test all new products released by L'Oréal Korea on display. [SHIN MIN-HEE]

L'Oréal established the Korea Innovation Center (KIC) in 2018, the company's first research center that launches new products targeted at Asian consumers. YSL Beauty's Touche Éclat Glow-Pact Cushion, dubbed the "pink cushion," and the Candy Glazy lip gloss stick, and Lancome's Clarifique Pro-Solution Serum were made at the KIC, and all have been ranking in the top 5 of their respective categories in sales throughout North Asia.

3CE, which L'Oréal acquired from the local fashion and makeup company Stylenanda in 2018, is the first and only Korean makeup brand that L'Oréal owns as of now. The company is open to acquiring additional Korean brands in the future, although nothing is set in stone yet, Megarbane said.

L'Oréal always felt like it "was missing the trends in the Korean makeup [sector]" before 2018. Taking over 3CE was "very successful and has shown a lot of potential, so we are actively seeking out K-beauty brands," he added.

"We are extremely grateful to all our customers, partners, suppliers, and our employees, for their incredible support and contribution to L'Oréal Korea throughout its 30-year journey," du Retail said. "We look forward to working even more closely with the entire Korean innovation ecosystem to create the kind of beauty that moves Korea and the world."

BY SHIN MIN-HEE [shin.minhee@joongang.co.kr]