NewJeans music videos feature Apple, actor Tony Leung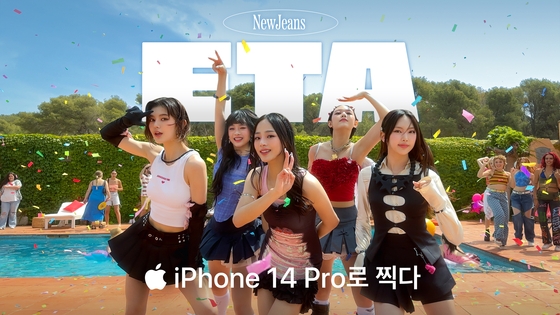 [APPLE]

Girl group NewJeans' latest music videos came with collaborations with two of some of the biggest names in tech and film — Apple and Tony Leung.


The music video for NewJeans' latest release "ETA," which dropped on Friday at 1 p.m., begins with the words "Shot on iPhone 14 Pro" on screen and featured the members shooting each other with iPhones.


The music video was directed by Shin Woo-seok and used only iPhone footage for the entire music video. Shin was also in charge of directing NewJeans' "Ditto" (2022) and "OMG" (2023).

"I had to shoot every cut with an iPhone in this project. Therefore, when I started writing the scenario, I was mindful of the things that I can only shoot with an iPhone and the significance of doing so," Shin said in a press release on Friday.

This collaboration is a continuation of a partnership announced earlier this year when Apple and ADOR released "OMG (Apple Music Edition)," a special version of NewJeans' hit song which used Apple's Spatial Audio technology to remaster the song. NewJeans also joined Apple's celebration during the opening of its fifth retail store in Seoul, located in Gangnam District, showcasing the Apple Music exclusive song.

Apple also released two additional commercial films featuring NewJeans, which were uploaded on Apple's Instagram and NewJeans' social media pages.

"'ETA' features friendly lyrics that feel like talking to a friend," Shin explained. "I unpacked those characteristics using iPhone's FaceTime feature, and I was able to output a stable result during large choreography scenes with its Action mode."

FaceTime is Apple's proprietary video and voice call platform that uses Wi-Fi and cellular connections. Action mode, first introduced with the launch of its latest iPhone models last year, is Apple's video mode that further stabilizes and corrects unwanted vibrations, shaking and bumpiness.


[APPLE]

There will also be a special "Today at Apple" session featuring director Shin at Apple's Myeong-dong retail store in central Seoul on Aug. 16, where the director will showcase his own tips on iPhone cinematography.

Tony Leung participated in the video for "Cool With You," a track that dropped on Thursday, before the others, that has already garnered more than 5 million views on YouTube as of Friday.

"While it was a short appearance, I wanted to have a charismatic actor with a presence," Min Hee-jin, founder and executive producer of ADOR, said Thursday. Min added that Leung accepted the role with zero gratuity.

Prior to the release of "Get Up," agency ADOR had teased there would be two "top stars" to collab with NewJeans. The other was model and actor Jung Ho-yeon.


NewJeans debuted in August 2022 with five members — Minji, Hanni, Danielle, Haerin and Hyein — under ADOR, a newly-founded music label under HYBE, led by the former creative director of SM Entertainment, Min.

NewJeans rose to become one of the biggest names in K-pop ever since its debut; its hits "Ditto," "OMG" and "Hype boy" (2022) were the three most-streamed and downloaded songs in the first half of 2023, and the band's debut track "Attention" (2022) was the seventh most-streamed and downloaded song in Korea, according to music sales tracker Circle Chart. The band received awards from major domestic music awards ceremonies such as the 2023 Golden Disc Awards, the 20th Korean Music Awards, the 32nd Seoul Music Awards and the Asia Artist Awards.

BY CHO YONG-JUN [cho.yongjun1@joongang.co.kr]