Travel programs take off post-pandemic but there's no more first class
Tving's original series "Ticketing on Two Feet" (translated), which was revealed on Jan. 20, sees celebrities go through a series of missions literally on their "own two feet" in order to give other people more airplane tickets in the South Island of

With the pandemic seemingly heading toward its end, travel variety shows are returning to the spotlight. Before Covid-19 struck, going on expeditions was a recurring genre in entertainment but with its comeback the trend nowadays has shifted.

Instead of watching the cast members enjoy their journeys overseas, viewers now prefer to see them challenge themselves in difficult situations. Shows illustrate the realistic aspects of traveling, shedding light on the relationships between the featured celebrities and the crew and their fluctuating physical strength and emotions along the way.

If past shows like tvN's "Grandpas Over Flowers" (2013-18) and KBS's "Battle Trip" (2016-20) focused on broadcasting beautiful scenery and travel tips on famous hotspots, the post-pandemic shows have chosen to walk in the opposite direction.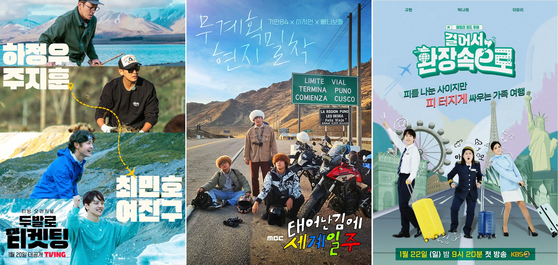 From left: posters of travel variety shows that have premiered recently: Tving's "Ticketing on Two Feet" (translated), MBC's "Adventure by Accident" and KBS's "Walking into Frenzy" (translated) [TVING, MBC, KBS]

Tving's original series "Ticketing on Two Feet" (translated), which premiered on Jan. 20, sees celebrities go through a series of missions literally on their "own two feet" in order to give other people more airplane tickets. Actors Ha Jung-woo, Ju Ji-hoon, Yeo Jin-goo and singer Minho of SHINee are regulars who cross the South Island of New Zealand by biking for 44 kilometers (27.3 miles), walking 20,000 steps or swimming in glacier lakes.

The cast members clearly go through a rough time. Ha complains of a headache because his helmet is too small at the start of the biking mission and is forced to give up 10 kilometers afterward.

Minho has to stop and rest along the way, and in the swimming mission everyone darts off after only sticking their feet in because of how cold the water was.


KBS's "Walking into Frenzy" (translated) explicitly shows celebrities and their family members bicker while on vacation. [KBS]

KBS's "Walking into Frenzy" (translated), which started airing on Jan. 22, and MBC's ongoing show "Adventure by Accident" (2022-) are also centered on the hardships of travel.

"Walking into Frenzy" follows celebrities and their families going on vacation overseas. Like the title suggests, the program is full of frenzy. Actor Suh Jung-hee, who is currently suffering from breast cancer, is shown traveling to Taiwan with her mother and daughter. The trio kicks off their trip with a quarrel because Suh keeps stubbornly insisting that she change clothes several times throughout one day.

Actor Kim Seung-hyun's journey to France with his family is also concentrated on his wife and parents bickering, rather than illustrating the beauty of the country. The shows aim to portray situations that any family will most likely encounter on vacation, drawing sympathy from the audience.


Scenes from MBC's "Adventure by Accident" (2022-), which centers on the conflicts and hardships among the crew members. [MBC]

"Adventure by Accident" features webtoon artist Kian84, actor Lee Si-eon and travel YouTuber Pani Bottle as tourists in South America, but here's the twist: everything is spontaneous. When its first episode aired in December, the viewership rate debuted at 4.6 percent, according to Nielsen Korea. It had more viewers than the long-running popular SBS variety show "Running Man" (2010-), which was rated at 3.9 percent when it aired at the same time.

"Adventure by Accident" sees the production team interfere as little as possible in whatever the cast does, leaving them to starve at times or even get mountain sickness.

The show garnered fans who said that it was "healing" because of how there was no set schedule and everything was impromptu.

A number of YouTubers that have strong fan bases among the younger generation have been appearing on such travel variety shows.


A scene from ENA's "Earth Marble World Tour" (translated), which was created by star producer Kim Tae-ho, showing how the cast members have to move 250,000 kilometers. [ENA]

Pani Bottle, who has some 1.53 million subscribers on YouTube, is also a cast member on ENA's "Earth Marble World Tour" (translated), which was created by star producer Kim Tae-ho.

Kim, who rose to stardom as the chief producer of legendary variety shows like MBC's "Infinite Challenge" (2005-18), established his own production company TEO after quitting MBC last year. The top three tourist YouTubers — Pani Bottle, Kwaktube and 1G — have been cast for the show and they throw a dice to decide on a destination to add to the unpredictability.

The program's name comes from "Blue Marble," a Korean board game similar to Monopoly.

In the first half of 2023, tvN is expected to air "You Go to Sydney" (tentative title), which involves four people from Busan who go to Australia for a working holiday. Though the show's name has not been revealed yet, actor Heo Sung-tae and Gwaktube have confirmed they will appear.

Gwaktube has 1.37 million YouTube subscribers.

Experts say that travel shows try to connect with the audience more nowadays, and this is because of the fact that how people view traveling has changed compared with the pre-pandemic era.

"After the world went through Covid-19, there have been reports that the demand for daring and peculiar vacations has increased," said pop culture critic Kim Heon-sik. "It seems that the production teams have been reflecting this phenomenon into their new shows."

BY NAM SOO-HYOUN [kjdculture@joongang.co.kr]