Y2K trend looks set to continue into 2023, along with ageless styles
Girl group NewJeans has been deemed a symbol of Y2K aesthetics since its debut. [ADOR]

After three years of the pandemic, 2022 finally seemed to offer a light at the end of the tunnel.

However, after years of athleisure dominating the fashion scene and a shift to the online world, particularly the metaverse, many were left wondering what would happen to the local industry.

But it didn't take long for fashionistas and designers to find their groove again and jump back from the online world into the real world.

Seongsu-dong in Seongdong District, eastern Seoul, is Korea's newest fashion mecca, becoming the most-tagged district on Instagram. Seoul Fashion Week made a full return as an in-person event after a lengthy hiatus. Athletic wear, like golf wear, saw a brief surge in popularity. People were nostalgic for the past, which brought Y2K looks back to the forefront.

The domestic fashion industry saw a sharp recovery. Samsung Fashion Research and Development Team reported that accumulated sales for 2022 increased by 5.4 percent compared with the previous year, resulting in a sales volume of 41.7 trillion won ($32.8 billion).

Based on the results of 2022, a number of fashion-related companies recently revealed their insights into what to expect in 2023 — the year of the black rabbit.


J-Hope of BTS was spotted at the airport on Monday donning a white sweater embroidered with a bunny face from Dior's Lunar collection made in collaboration with designer ERL. [SCREEN CAPTURE]

Rabbits galore!


Italian luxury fashion house Ferragamo's Lunar New Year collection includes a purse with a rabbit's blood-red eye. [SCREEN CAPTURE]
Brands took the furry, long-eared creatures and incorporated them into their new garments in fun ways.

Many brands have already released rabbit-themed collections, including high-end luxury brands Dior and Ferragamo.

J-Hope of BTS was spotted at the airport on Monday donning a white sweater embroidered with a bunny face from Dior's Lunar collection made in collaboration with designer ERL. He had just performed on ABC's "Dick Clark's New Year's Rockin' Eve" in New York on Dec. 31, 2022.


Girl group NewJeans wore black TheOpen Product T-shirts with rabbit prints in a YouTube video together earlier this week. [SCREEN CAPTURE]

Ferragamo's Lunar New Year collection is strikingly red, "infusing a contemporary charm into the classical imagery of Chinese symbolic tradition," its website states. T-shirts and bags are covered in images of blood-red rabbit eyes made from silk materials.

The rabbit theme extends to more casual brands, like Calvin Klein or TheOpen Product, the latter a local company. Girl group NewJeans and Joo Woo-jae, a model-turned-entertainer, all wore black TheOpen Product T-shirts with rabbit prints in a YouTube video together earlier this week.


Singer Taeyeon of Girls' Generation wears a fur hat and leg warmers, both staples from the Y2K era. [SCREEN CAPTURE]

Y2K intensifies

Another year has gone by but the world is not ready to let go of the early 2000s vibes.

The Y2K style was an ongoing trend throughout 2022. Ably, a local fashion e-commerce app, calculated that there were over 5,600 searches for clothing items related to the era.

ZigZag, another online shopping mall app, also forecast Y2K's continuing popularity in 2023.


Rose of Blackpink wears camouflage cargo pants in a picture taken last year. [SCREEN CAPTURE]

Oversized denim pants that were a staple from the end of the 20th century sold well, the platform said, and keywords like "crop" and "wide pants" were frequently searched all year long.

"I think people like Y2K fashion because the outfits are comfortable," Yoo Han-cheol, a 23-year-old car mechanic who lives in Gwangjin District, eastern Seoul, told the Korea JoongAng Daily. He says that his favorite Y2K item is cargo pants.

"I started opting for clothes that have lots of pockets and still look okay even if they get dirty," Yoo said. "Big logos are my favorite. There's something about Y2K that although can seem tacky, the style is unique. Not everyone looks the same."


Some examples posted by NCT fans on Instagram of the Czennie Look, created by the boy band's fans that centers around chic street-style looks in neutral colors. [SCREEN CAPTURE]

K-pop groups NCT and NewJeans were big proponents of the Y2K trend, hence related keywords "NewJeans Look" and "NCT" were among top searches in Ably.

Boy band NCT popularized the "Czennie" look. Czennie is a nickname the band members often use to address their fandom, NCTzen, and fans established a fashion trend of their own: chic street-style outfits in neutral colors.

Since its debut in July, NewJeans has been deemed a symbol of Y2K aesthetics, as all five members continue to dress in a way that pays tribute to the past: wearing hair accessories like barrettes and butterfly clips and filming analog videos, as seen with their latest single, "Ditto."


Jennie of Blackpink is shown wearing a balaclava. [SCREEN CAPTURE]

"Y2K is for sure remaining in 2023," said Lee Min-sun, a professor at Konkuk University who specializes in fashion marketing and consumer psychology. "It's already been around for a couple of years, and a large portion of NewJeans's success can be attributed to how it captured the ongoing trend quite well."

Some other indicators that Y2K is here to stay (at least for 2023) is that more items from that era keep coming back in style: sheepskin boots, balaclavas, leg warmers and fur hats being the best examples.

Balaclavas, which are a combination of a hat and scarf and usually expose only the eyes and mouth, originated in 1854 in the Battle of Balaclava during the Crimean War. Lately, celebrities have posted themselves wearing the warm headgear, like Jennie of girl group Blackpink and actor Han Ji-min.


Fur hats, like the one Kim Chae-won of Le Sserafim was frequently seen wearing while promoting the girl group's track "Antifragile" (2022), are back in style. [SCREEN CAPTURE]

Furry accessories and leg warmers were in style back in the 1990s sported by first-generation girl groups like S.E.S. and Fin.K.L.

Fur hats, like the one Kim Chae-won of Le Sserafim frequently wore when the group was promoting and performing "Antifragile" (2022), were a signature look of Korean chestnut or sweet potato sellers in the past — also a nod to the 1990s to 2000s.

"The thing about fashion trends is that even though many will think that their fashion choices are one-of-a-kind, the industry has already been manufacturing clothes tailored to a specific trend," Prof. Lee said. "Because we keep seeing Y2K clothes on the store racks, we've become accustomed to these looks. There are only a handful of dynamic, unconventional trendsetters."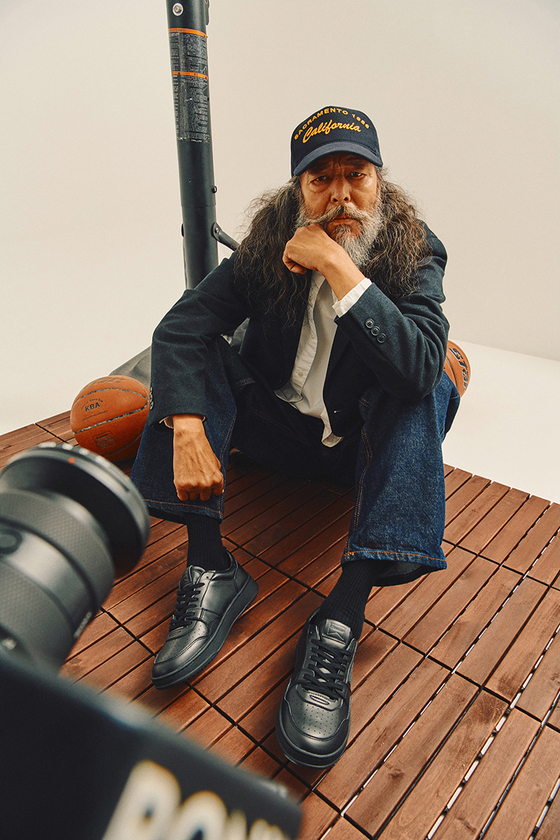 Local shoe brand Classico revealed a photoshoot featuring 67-year-old model Kim Chil-doo for its 1980s-inspired basketball sneaker collection last year. [SCREEN CAPTURE]

Young is the new old

A new generation has emerged as target consumers for 2023: YOLD.

A combination of "young" and "old," it refers to baby boomers whose range in age is from late 50s to 70s. They strive to dress and live in a way that is deemed younger than what they really are.

In recent years the industry's main focus was the MZ Generation, who are mostly in their 20s and 30s. But the Samsung Fashion Research and Development Team said the attention needs to shift to the YOLD generation.

"A lot of boomers were generally able to go to college, and they are considered to have made enough money to feed themselves and not rely on their children," said Lee Eun-hee, a consumer science professor at Inha University. "They are also called a woopie."

A woopie refers to a well-off retired person who is able to pursue an active lifestyle.


Clothing brand DAKS redesigned its apparel lines last year to center on "ageless" looks. [DAKS]

Many fashion brands have been rebranding themselves to cater to a wider audience that includes YOLD, but the garments should be designed to target people in their 30s and 40s, "because boomers hate looking or feeling old," Prof. Lee continued.

"That's why the brands limited to the silver market [a term used to refer to elderly consumers in general] have gone out of style."

Classico, a shoe brand under local fashion company Eland World, revealed a photoshoot featuring 67-year-old model Kim Chil-doo for its 1980s-inspired basketball sneaker collection last year under the slogan, "Timeless Classic." The brand's leading consumer age range are those typically in their 20s and 30s.

Other brands like DAKS and Hazzys redesigned their apparel lines last year to center on "ageless" looks.

"But I personally dislike the term YOLD," Prof. Lee said. "Anything that includes the word 'old' is just unappealing. Consumers want to be younger. Use that."

BY SHIN MIN-HEE [shin.minhee@joongang.co.kr]